Doctor advocates unproven hydroxychloroquine treatments
POTUS reposts her video, although there is no known cure for COVID-19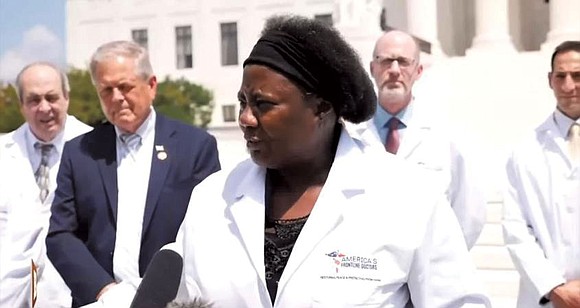 "In the past few months, after taking in over 350 patients, we have not lost one. Not a diabetic, not somebody with high blood pressure, not somebody with asthma, not an old person. We've not lost one patient.
—Dr. Stella Immanuel
President Donald Trump abruptly ended a coronavirus briefing last week, following a question by CNN's Kaitlan Collins regarding his recent tweets, in which he reposted a video of Dr. Stella Immanuel, which his son Donald Jr. first shared on July 27, writing that it was a "must watch."
By the next day, the president and his eldest son also shared now-deleted clips on Twitter, where the video trended. It went viral and was viewed more than 13 million times before it was removed from FaceBook and YouTube.
In the video, Immanuel passionately supports hydroxychloroquine for prevention and treatment of COVID-19. Trump still says that the drug is "very positive," though his own top infectious diseases adviser, Dr. Anthony Fauci, said there was only "anecdotal evidence" of the drug's effectiveness.
"I'm a true testimony," Immanuel said. "This virus has a cure: Hydroxychloroquine, zinc and Zithromax."
The Cameroon-born and Nigerian-educated Immanuel said she had used Hydroxychloroquine in Africa before to treat malaria. In the video, she said she is a primary care physician and works in her clinic, the Rehoboth Medical Center, located in Houston, Texas. Our Weekly's repeated phone calls to the center went unanswered.
The clinic's website states:
"The FDA [Food and Drug Administration] has revoked its emergency use authorization restricting the use of hydroxychloroquine in hospital settings only. It was not found to be effective in sick hospital patients. Doctors however can use it in outpatient care where early treatment is key to its effectiveness...".
The FDA issued a warning against the use of hydroxychloroquine as a treatment for COVID-19 after reports of a number of deaths and severe poisonings began to surface.
In the video, Immanuel chided American physicians and pharmaceutical companies who decry the use of hydroxychloroquine.
"All this foolishness does not need to happen," she said. "You want a double-blind study where people are dying. It's unethical."
The Washington D.C. news conference featured a group calling itself "America's Frontline Doctors," which held a summit on July 27 and 28 to dispel what they call the "massive disinformation campaign" about COVID-19. The event was organized by the Tea Party Patriots, according to reports.
The Tea Party Patriots described the event as: "Physicians from around the country address the American people about COVID-19 and the importance of reopening schools and our society."
This position is in contrast to the safety issues raised by the FDA, who cautioned against using hydroxychloroquine or chloroquine to treat COVID-19 patients. The National Institute for Health (NIH) adopted a similar position and halted its clinical trial of the drug, finding that it provided no benefits. The drug has historically been used to treat malaria.
Dr. Eric Alcouloumre, an emergency room physician in Newport Beach, was recently quoted in the Los Angeles Times regarding Immanuel, who, by all reports, also specializes in alien DNA and demon seed. Alcouloumre has no respect for her claims or those of her colleagues.