Discharged at Skid Row: Where to go from here?
Sick and mentally ill dumped like 'trash'
Isabell Rivera OW Contributor | 9/13/2019, midnight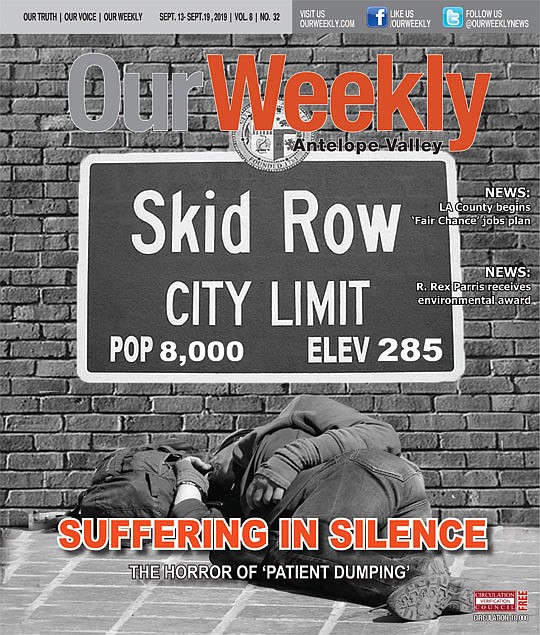 But being free doesn't mean it's safe, and without proper guidance, parolees are forced to join a community, with the so-called dumped pariahs of society, in an area that's considered a "containment zone."
Veteran Derrick Thomas, knows this firsthand. As he got released from jail, a few blocks away from Skid Row, and no place to go - except the streets or back to jail - he chose one of the endless blocks of Skid Row.
"It was cold as hell," Thomas said in a published video made by the pro bono law firm Public Counsel. "We just get pushed to the curb."
The night, he was released from jail, Thomas was left to figure things out on his own. He received no information on how to fill his prescription for his Post Traumatic Stress Disorder (PTSD) without an ID - because he lost his - or how to receive counseling, or housing assistance.
There is a lack of adequate care for mentally disabled inmates upon being discharged from county jail. These persons, unfortunately, may contribute to the Skid Row-to-jail cycle that contributes to the homelessness crisis in Los Angeles.
Mark Rosenbaum, directing attorney for Public Counsel Opportunity Under Law, mentioned in a statement that by "failing to provide needed assistance to the mentally disabled when they are released from jail, the county sends mentally disabled homeless people back to the streets of Skid Row and exacerbates the expensive Skid Row to jail cycle — the cycle of arrest, release, and re-arrest of mentally disabled individuals."
Mentally ill inmates
In 2015, the Public Counsel attorneys that represented Thomas and seven other former inmates, filed a federal lawsuit against the LA County's jail system—and its procedures—in regard to the treatment of inmates with mental disabilities. Their proposition was that although the county had settled with the federal government, more needs to be done to avoid recidivism, and break the cycle of depositing former inmates on Skid Row. 
"As soon as a person with a mental illness and disability are incarcerated, there needs to be thinking about the release of that person," Alisa Hartz, a Public Counsel attorney said in an interview. "There needs to be a lot more coordination between the jail and the community in order to break the cycle of homelessness and recidivism and incarceration."
According to journalist and author of  the book"Insane: America's Criminal Treatment of Mental Illness," Alisa Roth, the LA County jail holds roughly 16,000 inmates on any given night, and about a third require mental health care—about 25 percent of men and 40 percent of women.
"The court's ruling offers real hope that something positive can be done to end the Skid Row to Jail cycle that creates and perpetuates homelessness in our community," said Rosenbaum. "The bottom line is a clear one: the mentally disabled don't belong on our streets or in our jails. They belong in  housing with access to needed services. That would be a victory for all of us."