Breast cancer early detection critical for men and women
Campaign increases awareness
lisa fitch OW Contributor | 10/18/2019, midnight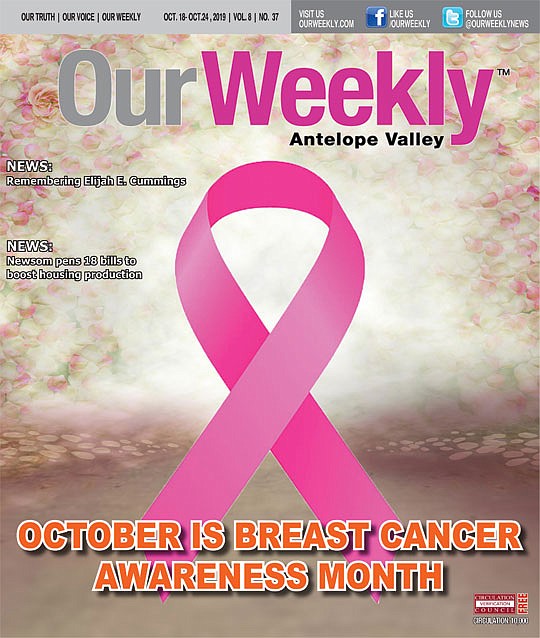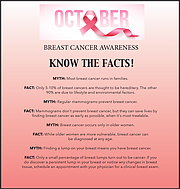 During October, National Breast Cancer Awareness Month, it is interesting to note that breast cancer in men accounts for 1 percent of all cases. It is estimated that more than 2600 men will be diagnosed with breast cancer this year alone and that nearly 500 men will die from the disease, compared to more than 41,000 women. Both men and women can benefit from early screening.
Breast cancer in men, although not common, can be aggressive. High levels of estrogen exposure; genetics; exposure to radiation therapy in the past; and a family history of breast cancer could all be contributing factors. Symptoms could include a painless lump on the breast area or behind the nipple, with our without some bleeding.
Former NFL football player Paul Dombroski was diagnosed with breast cancer in 2013. He was recently interviewed on CBS This Morning and told the audience that he felt he was well educated about the disease because his mother was a breast cancer survivor.
"So as soon as I felt a lump, I just knew right away that it was breast cancer," Dombroski said. "I immediately thought 'how do I battle this, what's the next step?' It's almost like a football player—you're injured? How do I get back on the field?"
Lack of education about the disease keeps many men from detecting it early, which is important for treatment. Dombroski said many of his friends didn't realize that men could get breast cancer.
"I told them 'bro, you've got breasts,'" Dombroski said. "Call 'em what you want— we used to call them 'pecs' your chest. It's anatomy."
The U.S. Food and Drug Administration (FDA) recently recommended that men be included in breast cancer clinical trials.
"Men have historically been excluded from breast cancer trials," said the FDA's Tatiana M. Prowell, MD. "For the first time, men can access investigational treatments in clinical trials and contribute to scientific advances and knowledge for others with this disease."
Although it can strike at any age, breast cancer is usually diagnosed in men five to 10 years older than in women and is found most often among men ages 60 to 70.
"Men commonly attribute a breast lump to some sort of injury," Prowell said. "The mass was already there, but they didn't notice it until it got sore after they were bumped in the chest, for example."
Men should talk to their personal physicians, write down any questions ahead of their doctor appointment and be sure to share any family history of the disease.
"Because male breast cancer is so rare, seeing even one man in a family lineage raises concerns about hereditary breast cancer," Prowell said.
Approximately 12.8 percent of American women will be diagnosed with breast cancer at some point during their lifetime, based on National Cancer Institute (NCI) data. And according to the NCI's 2019 Annual Report to the Nation on the Status of Cancer, overall cancer death rates continued to decline from 1999 to 2016.

"We are encouraged by the fact that this year's report continues to show declining cancer mortality for men, women and children," said Betsy A. Kohler, executive director of the North American Association of Central Cancer Registries (NAACCR). "There are also several findings that highlight the importance of continued research and cancer prevention efforts."