Thanksgiving Day dinner costs a little lower—but not by much
Many factors into what you pay at check-out line
Merdies Hayes Managing Editor | 11/22/2019, midnight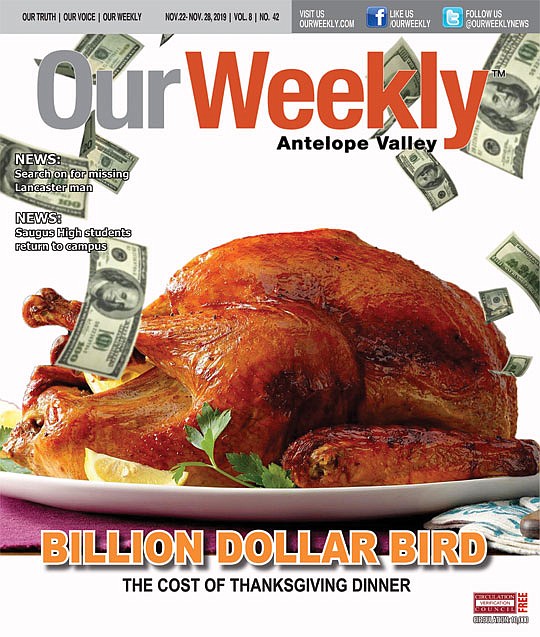 Thanksgiving dinner prices have actually fallen each year since 2015 and, adjusted for inflation, next Thursday's dinner could be the cheapest in more than a decade, which could be especially good news for Black Friday shoppers.
"Since 2015, the average cost of Thanksgiving dinner has declined steadily and is now at the lowest level since 2010," said Dr. John Newton, chief economist for the AFBF. He added that an ample supply of fresh turkeys helps to keep the meal "affordable and reasonably priced" for consumers.
Because California experienced a severe drought about three years ago, consumers have raised concern about rising food prices not only in the Golden State but also in the Midwest where much of our turkeys and hogs are raised and shipped throughout the country to be processed and delivered to your local market. According to John Anderson, deputy chief economist with the AFBA, the drought on the West Coast, torrential rains and subsequent flooding in the Midwest, and heavy snow storms on the East Coast may have led consumers to believe that they'd have to spend more this year for Thanksgiving dinner.
Effects of the drought
They were wrong. Anderson explained that the complete effect of the West Coast drought has not been realized either from farmers, processing plants, shipment, or at the check-out line.
"Decisions about Thanksgiving dinner are often made months or at least weeks in advance, so the effects of the drought still haven't been evident in most retail prices yet." Anderson said. "Consumers were incredibly cost-conscious during the recession, so naturally they want to know how much they'll be expected to pay for meal preparation during the holiday season."
By now you might ask: "What does the weather in the U.S. or in other countries have to do with my Thanksgiving dinner?" Let's look at those warm, buttery rolls we all enjoy. About five years ago, there was a disappointing wheat harvest in the Midwest. In 2014, the Department of Agriculture reported that only 36 percent of that year's crop was rated as "good" or "excellent"—the quality most used for making wheat products. Also, drought conditions in far-away countries such as Russia and Ukraine also hurt crops, further pushing wheat prices higher. Three years ago, the same wheat crop found 50 percent rated as good or excellent, and therefore consumers saw an increase in bread prices.
During the same period, the popular 16-pound turkey increased in price by about 3.1 percent, primarily because of the drought. You may remember that many charities at the time faced a shortage of turkeys because of even the smallest increase in price.
The role of California farmers
California farmers are responsible for a significant portion of the dinner spread. In the vegetable isle at the grocery store, one pound of green peas, for example, has risen about 4 percent over the past five years. And although production has been up during that period, consumers know that once a product increases in price, it'll either stay that way or decrease slightly over two or three years—but it never quite returns to the original price. The same is true for potatoes, green beans, beets and so on.