Allen v. Comcast: Black contracts in the balance
U.S. Supreme Court debates case
Lisa Fitch Editor | 11/21/2019, midnight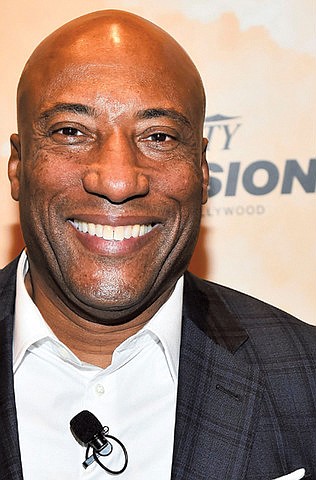 The 2015 lawsuit filed by businessman Byron Allen against Comcast Corp. has drawn a lot of attention recently. Allen sued Comcast and Charter Communications over racial discrimination after the cable giants refused to include his programming on their networks.
Allen, Entertainment Studios chairman and CEO, owns The Weather Channel, theGriot and several television stations across the country.
The U.S. Court of Appeals for the 9th Circuit ruled that Allen's claims against Comcast and Charter were plausible, holding that "if discriminatory intent plays any role in a defendant's decision not to contract with a plaintiff, even if it is merely one factor and not the sole cause of the decision, then that plaintiff has not enjoyed the same right as a white citizen and can state a viable claim under Section 1981, Id. At 21a of the Civil Rights Act of 1866."
Subsequently, Comcast petitioned the Supreme Court of the United States (SCOTUS) to hear its case. Oral arguments were heard on Nov. 13 in the case of Comcast Corporation, Petitioner v. National Association of African-American-Owned Media, and Entertainment Studios Networks, Inc. A final ruling is expected sometime in June, 2020.
"The lack of true economic inclusion for African-Americans will end with me," Allen said. "And these rulings show that I am unwavering in my commitment to achieving this long-overdue goal."
The Charter case, also allowed to proceed by the Ninth Circuit, still has its petition pending at the Supreme Court.
"It [the 1866 statute] has been in the books for more than 153 years and there has never been any ambiguity about this particular statute until we really tried to use it," said Allen in an interview with theGrio before entering the court.
The question SCOTUS faces is whether Entertainment Studios has to plead that race was the key reason Allen was denied a contract; in legal terms, whether he would have been successful "but for" his race.
Erwin Chemerinsky, attorney for Allen and the dean at the University of California, Berkeley School of Law, warned that requiring Allen to prove that race was the single factor in Comcast's decision before moving into trial was not the intention of the original statute.
"When you think of Congress' broad remedial purposes in 1866, there is not doubt that Congress wanted then to open the door to claims with regard to race discrimination in contracting, not to close that door," Chemerinsky said. "I think all this court needs today, then, is that the 9th Circuit is correct in saying that at the pleading stage, motivating factor is sufficient."
According to the court transcript, Supreme Court Associate Justice Sonia Sotomayor questioned the oral argument of Assistant to U.S. Solicitor General for the Department of Justice, Morgan L. Ratner, who argued in support of Comcast. Comcast has said that it based its decision on "insufficient consumer demand" for the network's programs.
"How can it be that if you're treated differently because of your race in the formation of the contact, but you're denied the contract for another reason, that other people may have been denied for, but you were treated differently, more burdens were put on you, more expenses were put on you, and at the end, they say, eh, you know, we really would never take on anyone like you with your business because, and it's true, nobody with your business plan has been accepted before, but you've been run around in circles and made to expend a lot of money—why is that not actionable?" Sotomayor asked.