Innocent Black man set free after 33 years
The odyssey of Keith Bush
Isabell Rivera OW Contributor | 5/30/2019, midnight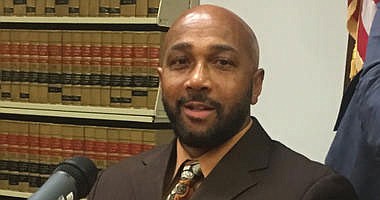 "My cases are done with physical evidence connected with the defendant, nothing else," Stahl told reporters.
A Newsday investigation from 1986, titled "The Confession Takers" detailed all allegations by different homicide suspects, saying that detectives had beaten them with telephone books to get false statements. It was reported that commission members thought of Rafferty's tactics to be a "convenient talent" for him to get what he wanted in regards to testimony and evidence.
After Spota left office in 2018, resulted by allegedly helping to cover up the county police chief's beating of a prisoner, Bush was able to get all his case records, which showed evidence of the second suspect.
Prosecutors believe now, that Bush's confession was fabricated and coerced by Stahl and Rafferty, besides other evidence the DA's office thinks of being problematic, according to the filing.
The alleged witness, who testified in court, saying she saw Bush with Watson, told investigators, she was "scared and afraid" of police. Her statement has been re-examined and compared to other eye witness statements, and they discovered that her initial statement was indeed false. The other aspects of the investigations, such as the hair pick or fibers of Bush's jacket, that linked Bush to the victim, were said to be "junk science."
However, the most disturbing aspect of Bush's case is that Jones existence was concealed from Bush and his attorneys. Bernard and the prosecutors who re-examined the case said it's a violation of Brady vs. Maryland, the Supreme Court decision to command prosecutors to disclose all proof that could help a case to the defense.
According to Sini, the CIB received many petitions to investigate about 100 other cases, and that the unit is currently working on solving about a dozen of them. In regards to Stahl and Rafferty, Sini said that "any petition that involves one of these detectives will be carefully reviewed."
"The police seem to have just decided based on some sort of sixth sense," said Bernhard. "They didn't investigate. They just decided."