Innocent Black man set free after 33 years
The odyssey of Keith Bush
Isabell Rivera OW Contributor | 5/30/2019, midnight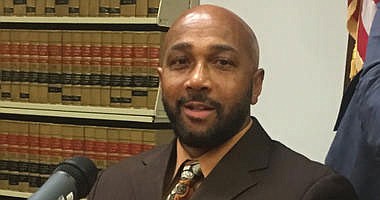 Keith Bush, 62, thought he'd or he would never be able to see the light of day again, hear the birds chirp at springtime, or inhale the smog filled New York City air, but 33 years later, a miracle happened. Justice was served--in his favor.
On May 22, prosecutors in Long Island, N.Y. filed a motion to vacate the conviction of Bush, an innocent Black man, who spent 33 years in prison for a crime they say he didn't commit.
Prosecutors filed with the District Attorney's Conviction Integrity Bureau (CIB), a unit responsible to examine convictions that appear to be unjust. The motion accused past law enforcement officials to have hid evidence of another suspect, named John W. Jones Jr., since deceased, who is said to be the killer of Sherese Watson.
In 1976, when Bush was 17-years-old, he was convicted of strangeling and attempted rape of the - back then - 14-year old Sherese Watson, who was found dead in a vacant lot.
It is unclear, if Bush and Watson knew each other prior to being seen at the same house party in the Long Island neighborhood of North Bellport, the previous year. According to false eyewitness accounts, due to bullying by the detectives, Bush was later charged with murder.
Former homicide detectives August Stahl and Dennis Rafferty brought in Bush as a suspect and interrogated him to get a confession by beating him with a phone book and kicking him in his genitals. He then confessed, to first killing her with his hair pick and then to strangling her because she refused his advances, with that statement he signed a confession he didn't even read.
"I just wanted my mom," Bush explained later in regards to why he signed the confession.
District Attorney Timothy Sini of Suffolk County, discovered through the reinvestigation of the case, that the detectives Stahl and Rafferty knew of the second suspect and that they were aware of Jones admitting to stumbling over Watson's body, but they allegedly concealed the evidence from Bush's defense attorney, as well as the court. Jones told Stahl and Rafferty, he tripped over Watson's body, after he left the same house party and dropped his hair pick at the scene - important information he kept to himself. However, the detectives had Jones take a polygraph and, convinced that his story was truthful, dismissed him as a suspect.
Stahl, 90 who lives in Yaphank, N.Y., a German-American Settlement League, said he isn't a racist, but records show he served as a board member, which banned residents who weren't of "Germanic extraction." In 1937, its Nazi-supporting residents walked.
Stahl, told the investigators," That (expletive) n----- did it, there is no doubt about it; he should have been executed for it." According to court documents. The court documents also stated that Stahl said murders in predominantly Black neighborhoods were "misdemeanor homicides."
He told USA Today that those statements were false.
"Not true at all whatsoever," said Stahl. "That's the DA's office. I guess they don't appreciate working with the Suffolk County Police Department."