Black Girl Magic: Black women attorneys worked to free 17 inmates serving life
Carol Ozemhoya | OW Contributor | 5/29/2019, 11:30 a.m.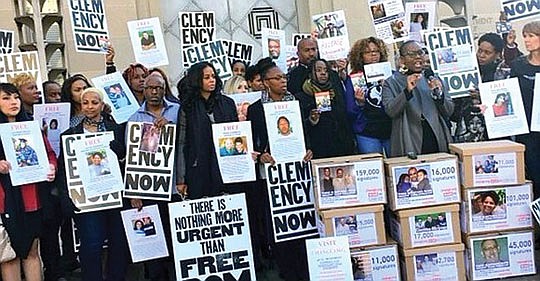 Multiple news sources are reporting a stunning and inspiring story that has set a new record in the legal industry. In fact, what these legal eagles did is unprecedented. As a result of a campaign called "90 Days of Freedom," launched by Brittany K. Barnett, a Black attorney who represents Kim Kardashian, 17 inmates who were on life sentence without parole are free. Another Black woman attorney, MiAngel Cody, also worked on the project.
Kardashian was instrumental last year in the release of Alice Marie Johnson, who was serving a life sentence for a drug-related crime. IN 90 days, the attorneys freed 17 people from life sentences. Most of those freed were Black.
"Only two of us … Prosecutors opposed nearly every single case we had," Barnett said. "We litigated our asses off in federal courts across the country. We won downward departures in most of our cases due to good lawyering. People set to die in prison are now free. Our clients weren't even on this selective list the Sentencing Commission sent out or on federal defenders' radars.. In fact, we have copies of letters federal defenders sent some of our clients telling them they weren't even eligible for relief under the First Step Act – but we got them free. Our work in 90 days is historic."
Kardashian reportedly worked with the women on the project and has signed a deal with Oxygen for a documentary series tentatively called "Kim Kardashian: The Justice Project," which will focus on her recent foray into criminal justice reform. According to some reports, the women attorneys, which also included Topeka Sam and Bella Bahhs, gave up six-figure jobs and ran through their own savings accounts to accomplish this extraordinary feat. For more information on their organization, go to www.thedecarcerationcollective.org