Child suicide on the rise within Black community
New study reveals disturbing findings
Isabell Rivera OW Contributor | 5/16/2019, midnight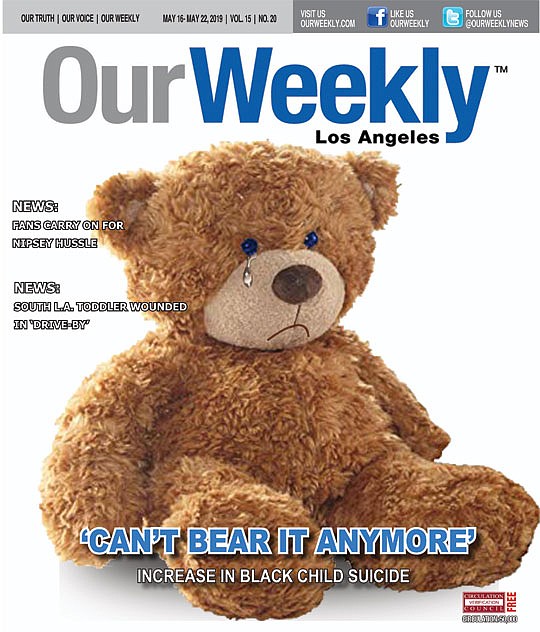 Dr. Mark Goulston, an expert on suicide prevention, breaks down the causes of mental health issues in young people and how to prevent suicide.
"Modern life has helped create a perfect storm of problems in teens that can lead to depression, anxiety, and in some cases suicide. To stop the snowball effect, we need to understand where all their pain is stemming from," the Boston native said. "We can't move the needle on teen suicide until we identify what drives this suffering. Once everyone can empathize with the isolation, pain, and fear impacting today's teens, we can offer them true understanding, and help them feel heard and far less alone."
Suicide in adolescents and in teens is something that marinates deep inside and grows over time. From the stage of an infant, children learn they need to feel secure, they need to trust someone to be there for them, they need to bond with their caregiver. If they don't have that feeling from an early age, they will develop insecurities, distrust, and anxieties. Therefore they will fall apart as soon as trouble arises, because they don't know the feeling of "everything will be ok."
Any unreceived approval they crave from teachers, parents, even their peers can result in feeling hurt, resentment, anxiety and anger, which then can lead to depression. That resentment fuels the anxiety and the child feels compelled to do something deviant to get back to the person that hurt them, but then focuses on self-destruction.
Understanding complex factors can save lives
At the onset of suicide, it feels like the world of the child is crashing, and the child fears losing control, and in order to avoid that, they decide to die by suicide.
"Understanding the complex factors that are leading to increased mental illness and suicide is the first step to helping stop this crisis," Goulston explained. "We have to understand what's wrong before we can change it. Then, we can respond with empathy and understanding to save the lives of teenagers everywhere."
As U.S. News reported, experts say other factors also play a role, such as mental issues, like bipolar disorder, profound social isolation or a deep sense of loss.
Not too many cases make the news, but there were a few who did. Like Gabriel Taye, from Cincinnati, Ohio . The 8-year-old is the youngest African-American child in the U.S. who committed suicide by hanging, that has been linked to bullying in school. Days before the incident, a school surveillance video was released, that showed Taye lying unconscious in the boys bathroom, after encountering a group of peers.
In the case of Mckenzie Adams, the 9-year-old from Linden, Ala, who committed suicide by hanging last year in Decemeber, the investigations indicated that Adams was also being bullied by her classmates. Notes were passed around that read "You think you're White because you ride with that White boy,' 'You ugly,' 'Black b----,' 'Just die." Her aunt Eddwina Harris, told the local newspaper "The Tuscaloosa News."