Miss USA, Miss Teen USA and Miss America are all Black for first time in history
Carol Ozemhoya | OW Contributor | 5/7/2019, 10:03 a.m.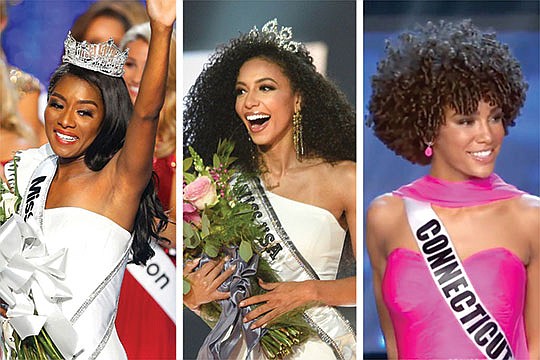 According to the New York Times, despite a long history of segregation and racism, America's top pageants have broken racial barriers in recent decades. Vanessa Williams became the first Black woman to with the Miss America title in 1984. Carole Gist won Miss USA in 1990. Janel Bishop won Miss Teen USA in 1991. Each competition has had multiple Black winners since. Last week, for the first time, Black women wore the crowns of all three major pageants simultaneously. Chelsie Kryst, 28, won the Miss USA contest, and Kaliegh Garris, 18, won Miss Teen USA. They joined Nia Franklin, 25, who was crowned as the 2019 Miss America in September. The three wins have become a powerful symbol of how much American views on beauty have evolved from a past marred by racism and gender stereotypes, even as Black women leaders are still severely underrepresented in other fields, such as corporate America. "It is important to little Brown and Black girls to see three strong figures, three strong women, African-American women that are doing so much great work," Franklin said on Saturday. "People will argue that race doesn't matter. But race does matter in America, because of the history, because of slavery." News of the pageant wins resonated with many on Saturday, drawing words of support from actress Halle Berry and Sen. Kamala Harris, who is running for President of the United States. "Nia, Cheslie and Kaliegh: you are trailblazers, creating your own path on your own terms," Harris said on Twitter.