John Singleton: Trailblazer in Hollywood and South L.A.
Acclaimed director dies from a stroke
Carol Ozemhoya OW Contributor | 5/3/2019, midnight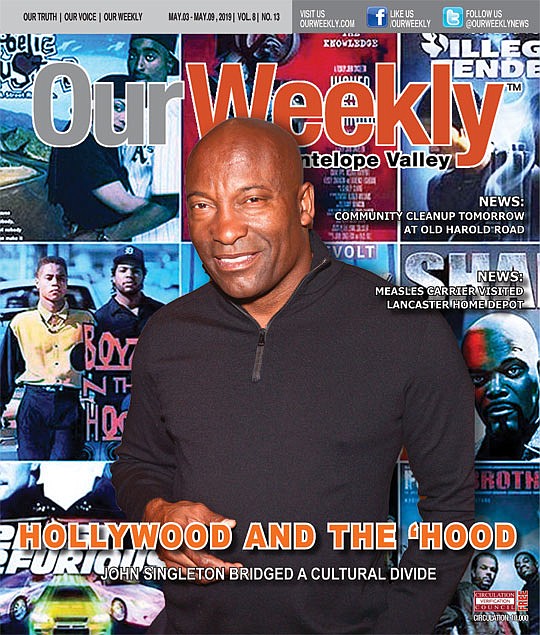 Other actors who came out in "Hood" include Cuba Gooding Jr. and Ice Cube. Singleton also is credited with bringing out the actress in Janet Jackson in "Poetic Justice." He also directed "Baby Boy," "Shaft," "2 Fast 2 Furious" and an episode of "American Crime Story."
Gooding shared on social media how he spent some final moments with the acclaimed director before he passed. "I was able to sit with John privately and whispered in his ear that I loved him and thanked him for starting my career."
Gooding went on the star in many films after his debut with Singleton, including "Jerry McGuire" with Tom Cruise.
'A true inspiration' to Black artists
Other celebrities quick to express their feelings included Chance the Rapper, who said Singleton changed his life, and current hot filmmaker Jordan Peele described the director as a "brace artist and true inspiration. He changed everything."
Singleton was active. He was the director of the FX series, "Snowfall," which he co-created and executive produced. The series, centered around the crack epidemic in Los Angeles in the '80s, is in its third season and has remained in production, reports Variety. "Everybody is sad, but everybody also is moving forward because that's what John would've wanted," said Trevor Engelson, who executive produced with Singleton. On the day Singleton passed, the cast and crew used his passing to ignite scenes being shot, Engelson said. "It's like the actors were hearing what John would've said. "Use that real life emotion in your performance."
There was a genuine outpouring across the board for Singleton, who apparently had a major impact on people both in front of and behind the camera. One of the most poignant memories shared came from Spike Lee, who befriended Singleton when he was a film student at USC. The two kept in touch and supported each other throughout their careers in an industry Lee said, "is not set up for us…" Lee went on to say, "Over many years, people have told me 'I'm going to be a filmmaker.' When John said that to me the first time we met, I believed him right away. It was no surprise. With his passion, his heart, the way he talked about his love for cinema and Black folks, I could see John would make it happen. And he did, from day one."
"Rest in power," wrote Oscar-winning actress Regina King, who worked with Singleton on "Poetic Justice."
Ava DuVernay shares memories
Filmmaker Ava DuVernay called Singleton "a giant among us." She said, "There aren't many of us out here doing this. It's a small tribe in the grand scheme of things… His films broke ground. His films mattered." And from rising star (both in front and behind the camera) Michael B. Jordan, "Like many of us when I heard the news, I wished it wasn't true. John was a true visionary and social leader. Through his arts he shared many of our truths, and I can honestly say without his works, I may not have been given the chance to express myself in this industry. I'm posting this not in his memory but to speak positive energy around his spirit so we can have more time with him and his soul."