John Singleton: Trailblazer in Hollywood and South L.A.
Acclaimed director dies from a stroke
Carol Ozemhoya OW Contributor | 5/3/2019, midnight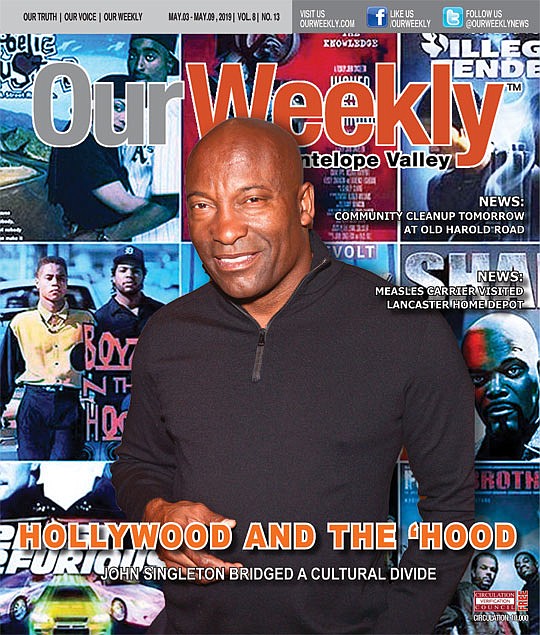 Shock waves ran through the Black film and television community when word broke last week that trailblazing director John Singleton had suffered a stroke. He actually walked himself into a hospital after experiencing pain in one of his legs. Word came out that he was in ICU and "recovering."
On April 29, however, Singleton, who first came to attention as director of the 1991 film "Boyz 'n the Hood," had been taken off life support and passed.
Filmmakers across the globe went on social media to talk about Singleton's impact and how he inspired them. Wrote Rob Hardy of Rainforest Productions ("Trois," "Think Like A Man" and dozens of TV series), "His work inspired me to want to be a director. And when I was starting my career, he was one of the first established filmmakers to give me support and advice. He was a creative guy who was passionate about life. He will be missed."
An outpouring of condolences
California's politicians also weighed in. Rep. Maxine Waters (CA-43) issued an extended statement that included these words: "My heart is heavy with the news that one of the world's greatest directors and storytellers, and one of South Los Angeles' most beloved sons – John Daniel Singleton – has died. There is perhaps no other filmmaker in history that has so artfully chronicled the story and spirit of South Los Angeles as John Singleton. I am among the millions of people around the world who are mourning the loss of this iconic and once in a generation creative talent."
And from Rep. Karen Bass (CA-37), "John Singleton made sure to tell our stories on the big screen in an authentic way that only someone from where he's from could tell, all while ensuring that our community benefited. By doing so, he changed Hollywood forever, as well as South L.A.
As to his early Oscar nod, she added, "… making him not only the youngest filmmaker ever to receive the honor, but also the first ever Black director to receive that nomination. With "Boyz in the Hood," Singleton humanized the struggle but also the beauty of life in South Los Angeles. His ability to articulate what he saw in the community not only made him a storytelling legend, but also a cinematic activist – a path that included testifying before the United States Senate about rising homicide rates among youth and decades of dedication to enriching our neighborhoods. We'll miss you John."
A wunderkind from South L.A.
Singleton was 51. He achieved success at an early age, considering the barriers and obstacles of a Hollywood that, at the time of "Boyz 'N the Hood," had yet to recognize the cultural, historical and financial value of Black life on film. Singleton was just 24 when he was nominated for an Oscar as Best Director for the groundbreaking movie, which is still a favorite among movie aficionados. It also served to expose some actors that remain highly sought after today, including Morris Chestnut.
The actor, who now is one of the stars of "The Enemy Within" on NBC, said on Instagram that he is mourning Singleton and wishes to thank him for "giving me a chance." Chestnut played Ricky in "Hood," and it was his first movie role. He also worked with Singleton on "Higher Learning." Chestnut has been in numerous films and TV shows since then, including Fox's "Rosewood."