Inglewood 'wind of change': Good or bad for community?
Residents fear being 'priced out'
Isabell Rivera OW Contributor | 3/28/2019, 9:41 a.m.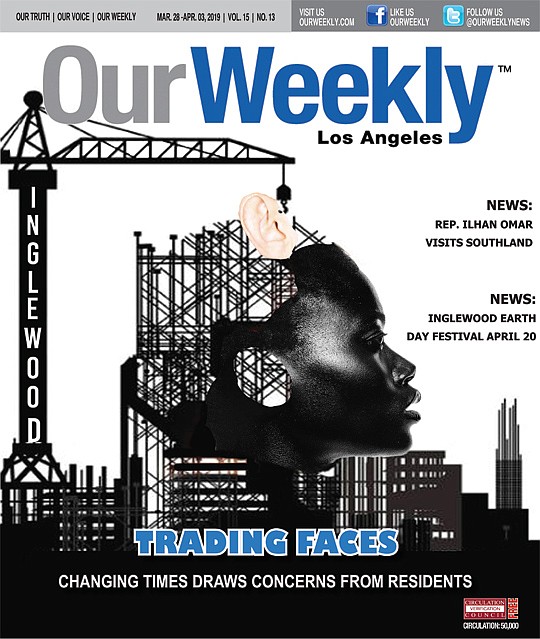 Inglewood, known to many as the mecca of local sports, hip hop culture, gang activity—and long-standing inequality—is receiving a wind of change. It could be considered a bigger storm for some by virtue of gentrification.
The term "gentrification" means, "The process of repairing and rebuilding homes and businesses in a deteriorating area—such as an urban neighborhood—accompanied by an influx of middle-class or affluent people and that often results in the displacement of earlier, usually poorer residents."
Opinions vary among residents
Opinions are split, doubts are high. All with good reasons. Since Los Angeles County decided that Inglewood will be the location for the Los Angeles Stadium at Hollywood Park, the new home for the Los Angeles Rams, Chargers and Clippers (scheduled for completion in 2020) as well as a new venue for the Los Angeles Clippers, the neighborhood has seen quite a difference.
Although cheaper than Hollywood, or Koreatown, for the community of Inglewood that already suffers from inequality issues, the price for housing is not affordable. According to rentcafe.com, Inglewood saw an increase of seven percent increase from 2018 to 2019. The average rent used to be $1,654 and is now by $1,770.
"We have heard many stories about businesses closing and moving out. Several shops on our block have closed in the four years we have been here," said Renie Schoenkerman, owner of MiddleBar. "Hard to survive with rent increases. Our staff who lives in the neighborhood has had to contend with these issues as well."
More Whites are returning
Looking back, Inglewood wasn't always a predominantly Black or Latino neighborhood. In the 1940s up to the the late 1960s, Inglewood was a staunchly segregated White neighborhood. However, more African-Americans moved to the city, which resulted in the familiar "White flight" toward the suburbs. But with change, also comes hardships, such as poverty, high crime, and food deserts. But besides its issues, Inglewood was also considered the "Harlem of the West," with its Jazz bars and entertainment that attracted various celebrities, such as Marilyn Monroe, and Rita Hayworth.
"Over the years the neighborhoods are changing and as more White folks move into Inglewood," local resident and architect Christopher L. Mercier said. "It's a funny flip on diversity as Inglewood gets more diverse. The hope is that this influx of new residents, and new businesses can quickly learn to grow into the existing culture this area has, and help to grow its positive aspects with minimal displacement."
MiddleBar owners, Renie Schoenkerman and partner Corrie Scully, have been in Inglewood since 2014 and love its diversity. The power couple, that specializes in craft cocktails and hosts pop ups, looked for a place that offered space and affordable rent.
What they're saying on Market Street
Scully, a New Orleans native, found similarities on Market Street that is the home to many southern comfort cooking.
"We were on the search for a commercial kitchen when we came across our space in Inglewood. It was so cute and we saw the potential on Market St, well before the announcement of the stadium and revitalization," Scully said. "We just felt we could bring some good hospitality to this historic neighborhood"