Dodgers boost youth baseball in South L.A.
Emphasizing sports, education and health
Merdies Hayes Editor | 3/28/2019, 2:32 p.m.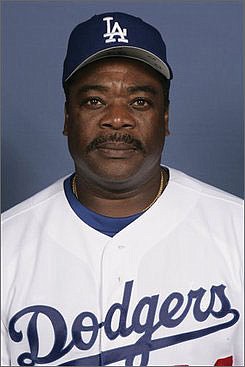 In addition to Gold Sponsor Bank of America, 2019 partnering corporations and organizations include:

Program sponsors include: 99 Cents Only Stores, ARCO, California Resources Corporation, IBEW Local 11, Southern California Pipe Trades, Helen and Will Webster Foundation, LA84 Foundation, Los Angeles County Department of Public Works, Los Angeles County Department of Water and Power, California Masonic Foundation, Under Armour Freedom Initiative, and UCLA Health
Program partners include: American Heart Association, Cal Ripken, Sr. Foundation, California State University, Los Angeles, California State University, Northridge, Dasani, Farmer John, Gatorade, LeagueApps, Los Angeles Dodgers Training Academy, Los Angeles Lakers Youth Foundation, Loyola Marymount University, Pepperdine University, Pitch in For Baseball and Softball, Positive Coaching Alliance Los Angeles, Read Conmigo, State Farm, Up2Us Sports, University of Southern California, and Vision to Learn.
Returning Dodgers RBI partners include:
—Boys & Girls Club of West San Gabriel Valley (Includes Public Housing Developments)
—Hawthorne Recreation & Community Service Department
—YMCA of Metropolitan Los Angeles
—Lynwood Recreation and Community Services Department
—Inglewood Parks, Recreation and Community Services
—Long Beach Department of Parks, Recreation, & Marine
—Los Angeles Department of Recreation and Parks
—Los Angeles County Department of Parks and Recreation East County Community Services Agency
—Los Angeles County Department of Parks and Recreation South County Community Services Agency
—Hollywood Indies Little League (HILL)
—Los Angeles Boys & Girls Club
—MLB Youth Academy in Compton
Dodgers RBI (Reviving Baseball in Inner Cities) is a baseball and softball youth development program of the Los Angeles Dodgers Foundation (LADF) that aims to: increase participation in the sport and use sports participation as an engagement tool to increase access to education, literacy, health, wellness and recreational resources in underserved communities. Dodgers RBI is bigger than baseball and focuses on youth development as it engages communities and families in programming.