McDonald's new push for gender balance, diversity
Meet Kiana Webb
Isabell Rivera OW Contributor | 3/14/2019, midnight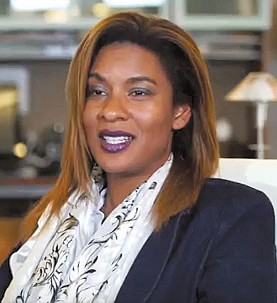 March is Women's History Month. Celebrating women's success stories, leadership, and advocacy. One of those success stories is Kiana Webb, CEO of Webb Family Enterprises. The California native, grew up with parents who have been McDonald's franchise owners since 1985.
"It's really a blessing," Webb said," to own a successful business, with people who want to be successful."
At this point, Webb Family Enterprises owns 16 franchises throughout Southern California. At the age of 27, Webb purchased her first franchise from her parents.
The philanthropist has obtained a bachelor's degree in business administration from the University of San Francisco, and a master's degree in organizational leadership from the Grand Canyon University. Currently, Webb serves as the chapter president of the Black McDonald's Owners Association (BMOA) of Southern California, vice president of The National Black McDonald's Owners Association, and represents women nationally on the McDonald's leadership council. She is a Board member of Casa Colina Hospital and Centers for Healthcare, and the Child Development Center in Pomona.
"My Great Grandmother—who was born in 1904—always gave much, even when she had little," Webb said. "Giving back to the community, is part of who we are."
But the mother of three isn't just the CEO of a successful family enterprises. First and foremost, she's an advocate for improving the lives of women, children, and people of color, through community leadership roles. Webb believes, in giving back to the community and making the lives of many young adults better, by offering new opportunities.
"We work with young people all the time," Webb said, "who look to become entrepreneurs. We are growing with people […]. Our desire is to change the outcome for African-Americans."
Known for their golden arches, juicy burgers and crispy fries, McDonald's Corporation is the world's leading global food service retailer, with over 37,000 locations. Recently, McDonald's announced the launch of its "Better Together: Gender Balance & Diversity" strategy. By 2023, the company aims to improve the representation of women at all levels of McDonald's, achieve gender equality in career advancement, and champion the impact of women on the business. In addition, McDonald's has signed the UN Women's Empowerment Principles to further mark the company's commitment to progress. 
"Gender balance and diversity makes McDonald's stronger," said David Fairhurst, McDonald's Chief People officer. "Together with our franchises, McDonald provides jobs for almost 2 million people across the world, and is one of the world's largest employers of women. We're committed to inspiring workplaces where everyone—from crew to c-suite—is equally supported and empowered to realize their full potential. Our new strategy will help deliver this commitment and is designed to ensure that we're clearly defining and hitting our targets, day-in and day-out. "
McDonald's will advance education, and development programs to support women to progress, with its new initiative, "Archways to Opportunity." This initiative will help, enable women from company-owned restaurants, and participating franchisee restaurants to learn skills in areas such as data science, cyber security, artificial intelligence, and more. The goal of this initiative is to support broader representation of women in technology fields and support employees on their path to success—at McDonald's and beyond.