Los Angeles finds itself in daily battle with rats, disease
Stemming from growing homeless epidemic
William Covington OW Contributor | 6/27/2019, 9:56 a.m.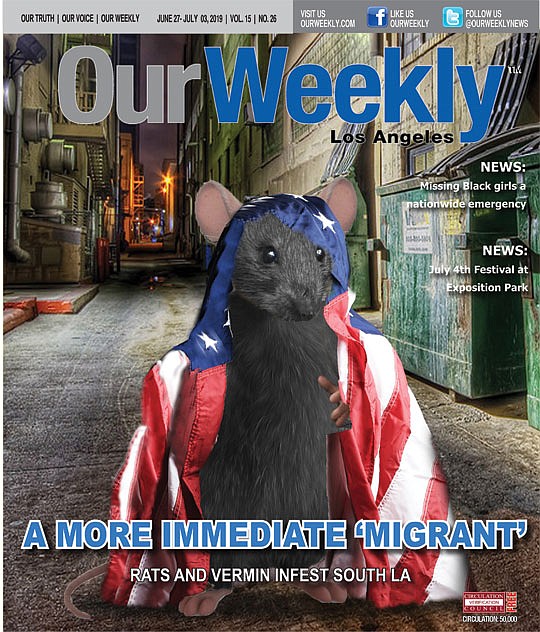 The city of Los Angeles has found itself battling diseases form the dark ages borne by both fleas and feces. An LAPD officer was diagnosed recently with typhoid fever (caused by a bacteria) along with two more colleagues displaying symptoms. Cases of typhus (from fleas), caused by a different bacterium, have soared in California from 13 in 2008 to 167 in 2018.
There have been outbreaks of hepatitis A, tuberculosis, and staph infections in Los Angeles and other West Coast cities.
A homeless individual, James Campbell, lives at the so-called "ground zero" (immediately south of Downtown Los Angeles) of the epidemic and describes how his environment is laden with waste, rotting food and the odor of open communal toilets
'Ground zero' no longer isolated to Skid Row
"At night rats dart through a maze of debris, and I fear the consequences of being bitten," Campbell said. "Living with them causes me to worry about all those diseases that are resurfacing like typhoid fever, typhus, hepatitis, and tuberculosis. I have been living around rats so long I believe I understand them. I have observed them shrink in size to climb inside a concrete vault off the Harbor freeway. I have heard their squeals after dashing them with hot coffee. I have observed rats eating dog waste [while avoiding human waste]."
Rats and other vermin tend to consume fecal matter from animals rather than human waste, according to Dr. Robert Blanchard, a zoologist with the College of Social Sciences at the University of Hawaii. Blanchard focuses on bio-behavioral emotion systems—including aggression and defense—and the behavioral and physiological consequences of social stress. He believes homeless individuals are in harm's way when living with rats, especially if the rodent is cornered or faces injury.
Rats will use the following defense mechanisms: vocalization—which consists of a hiss sound—followed by a jump or a stance on its hind legs. Often, a cornered rat will launch a "jump attack" for the face. Blanchard believes that while such attacks are rare, the city of Los Angeles should be more focused on the typhus which is transmitted by bites from fleas carried by rats and cats that serve as hosts.
Potentially deadly health hazard
Campbell keeps bleach, alcohol, trash bags and hand sanitizer in his homemade shelter. He regularly sprays a mixture of water and bleach around the perimeter of his shelter, thereby keeping himself and the area clean and disease free. He said this practice is a top priority he learned while incarcerated at the Men's Central Jail in Downtown Los Angeles.
" I was locked up in jail, during the flesh eating bacteria scare in 2005," Campbell explained. "I noticed the Hispanics—who kept to themselves—had a designated toilet that they kept extremely clean. That toilet was only used to do laundry, a type of jailhouse wash machine. I saw them beat up other Hispanic inmates—those that had hygiene issues. Hygienic discipline was their protection against flesh eating bacteria. Filth breeds disease."
Campbell said the homeless encampment he is in is breeding disease because it lacks "hygenic discipline." He stays along the Harbor Freeway in South LA, and according to him, it is often littered with rotting food, needles, human and dog waste, trash and the stench of urine.