Tiera Fletcher: 'Hidden Figure' in plain sight
Advocating STEM for Black girls
Darcie Ortique OW Contributor | 6/20/2019, midnight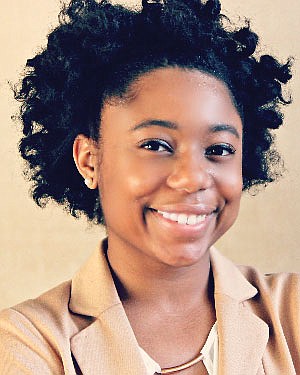 A modern-day, "Hidden Figure," 24-year-old Tiera Fletcher, a structural engineer for The Boeing Co. in New Orleans, La., is paving the way for those underrepresented in STEM (Science, Technology, Engineering and Mathematics) field.
"I'm a triple minority," she said. "I'm a young, Black female in this field of aerospace engineering. I'm not exactly what you call the 'common face' in aerospace engineering or NASA or at Boeing."
Fletcher plays a key role in helping to design an engine that will one day power a 188,000-pound, 322-foot tall rocket that will send astronauts back to the moon and to Mars.
"It's definitely a humbling experience," she said. "I understand that I have the responsibility to open the gates wider for the upcoming generations of young, females of color as well and I take that very seriously."
Minorities have always been underrepresented in STEM fields. Fletcher discovered her passion for aerospace engineering through a Wykeham Martin elementary school program in Marietta, Ga. "I had the chance to explore what engineering was through that program because I had never heard of it before," she explained. "I found out what aerospace engineering was and I've just been attached ever since. I just fell in love."
A native of Mableton, Ga., and an alumna of the Massachusetts Institute of Technology (MIT), where she earned a 5.0 GPA studying aerospace engineering, Fletcher is making history for young Black girls interested in working in the aerospace industry. She utilizes her knowledge and resources to re-define the status quo for women in the competitive, male-dominated field of engineering. She also advocates for The Boeing Co. where she laid her foundation as a college intern.
"It's an awesome company and I'm so glad that I took the time to research and figure out exactly what they offer," Fletcher said. "I would urge college students to take a little bit of time to research various companies that are out there verses the ones that you just happen to be familiar with."
While interning at the Boeing Co. in 2015, Fletcher met her future husband, Myron Fletcher, who is a rocket scientist. The pair are practically inseparable.
"I looked at her and I was like, 'that's my wife. I'm talking to my wife,"' Myron said in recalling the day the two were introduced by a colleague.
According to a 2015 study by the National Science Board, women accounted for only 9 percent of the workforce of mechanical engineers, and about 10 to 13 percent of the workforce of electrical and computer hardware engineers and of aerospace, aeronautical and astronautical engineers.
"I actually have one other African American (female) engineer on my team," Fletcher stated. "It's an exciting thing because it's not something that you really come by because in Huntsville (Ala.), I was the only one, period. And when I was doing my previous position as task leading, I was the only one, only female, only black everything,"
The couple recognizes the lack of diversity in the STEM fields and chose to make a difference on a global scale.