Mental illness, homelessness major issue in South Los Angeles
Distinguishing myths from facts
Lisa Fitch OW Contributor | 6/20/2019, midnight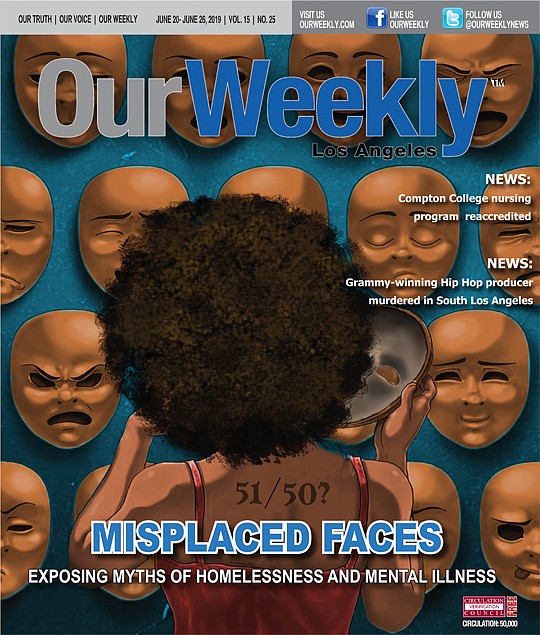 Downtown Women's Center
But then one day she was turned away because the shelter was filled to capacity.
"I was really scared and trying to find a place to keep safe," Newsome said. "The shelter would bus us to this place downtown to shower, get food and clothes."
Newsome tried to remember the bus route and walked the streets until she finally found the Downtown Women's Center.
"In the shelter, you had to shower at night," Newsome remembers. "But at the center you could shower in the morning. I really liked that."
She now attends their group sessions and receives assistance to live in an apartment.
The Downtown Women's Center has operated for 41 years on Skid Row. They have 119 permanent, supported housing units downtown, as well as other housing units located throughout Los Angeles county.
Some renters pay 30 percent of their income for rent. But a job is not a prerequisite.
"Once a person gets housed, they make sure they are mentally stable there and we're monitored," Newsome said. "I don't want a setback. I need to maintain."
"I want to give back," Newsome added, noting that she has joined the Downtown Women's Center's advisory board. "I want to pass the word. I was in the same situation. It's possible."
Newsome recognizes that there is a cloud surrounding the issue of mental health, especially in the Black community.
"There's a stigma there," Newsome said. "But you shouldn't look down on me because I'm getting help. That doesn't downgrade my value."
The African-American community, in particular, has a fear of asking for mental health services, according to Dr. Holmes.
"Research shows that African-Americans tend go to 'family first,' then pastor or clergy, and then seek professional psychological services," Holmes said. "By the time they come into counseling, dealing with psychological distress has become a way of life. Sometimes we have to unpack five, 10, 15 years of depression."
A stigma in Black families
The center, which has more than a dozen clinicians on staff, conducts a standard intake, which includes a questionnaire asking potential clients about their current situation, why they want therapy, and their previous use of psychotropic medications. They provide services to children as young as four years of age and to seniors. Client fees are based on their ability to pay.
Word is spreading through social media that mental health is an important part of overall health and is made up of our emotional, psychological and social well-being. It's a part of life and nothing to be ashamed of.
Millenials embrace therapy
Although seeking out professional help has been a taboo subject for years, Millennials are more likely than previous generations to pursue therapy when they recognize the signs of stress, anxiety, depression and other mood disorders. 
A 2015 study conducted by American University revealed that Millennials grew up hearing about mental illnesses—including eating disorders and suicidal tendencies—more than any other age group. This younger society is reportedly more accepting of mental health challenges, and is also more likely to talk about mental health issues than their parents or grandparents.