Documentary reveals origins of West Coast hip-hop
'Set in the West' premieres June 29
Daniella Masterson OW Contributor | 6/13/2019, midnight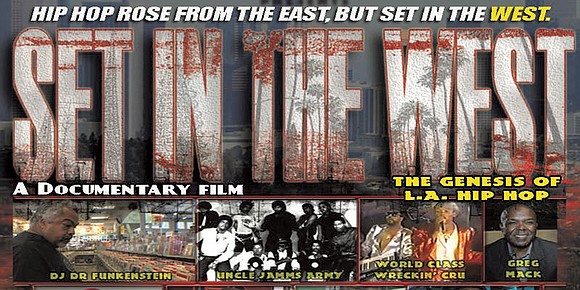 As a young man coming of age in Compton in the late 1970s, Wolfgang Amadeuz witnessed the rise of West Coast hip-hop in the city that would become synonymous with this iconic sound.
Amadeuz quickly became a fan for the same reason hip-hop grew so rapidly in urban communities. He could identify with it.
Hip-hop inherited the Black pride of the civil rights movement by interpreting the rhythmic rhymes of such popular artists as The Last Poets. It also embodied a celebrated freedom of expression in dance and art that reflected African-American's newfound political and economic empowerment.
"Hip-hop has been around from the time I can remember," said Amadeuz. "I was born in the late 1970s. When I heard DJ Battlecat's little brother Shawn come on my block with his big boombox playing De La Souls "Plug Tunin" in 1980, that's when I began loving the music."
"The origin of hip-hop merging from New York in the late 1970s is well documented but many do not know that at the same time, there was another music scene that rose in the west," said Amadeuz, producer/director and co-writer of "Set in the West", which premieres on Saturday, June 29 at 4 p.m., at Los Angeles Film School, 6353 Sunset Blvd. Admission is $15.
Amadeuz is a hip-hop historian and "technophile." He's also a member of the Universal Hip-Hop Organization, a docent for the California African American Museum and is a member of Compton's 125 Historical Society. "Set in the West" has been accepted in three distinguished film festivals. It was recently accepted in the London International Motion Picture Awards.
"That era of music impacted me tremendously," he said. "World Class Wreckin Cru and Uncle Jamm's Army set the stage for NWA, then Deathrow records and beyond. We all know the impact NWA's song 'F-- the Police' had on the culture at that time.
"I felt 'Set in the West' is a project that had to be done because I couldn't find any documentaries on the origins of L.A.'s hip-hop history."
"Set in the West" begins with a heart-pounding pace, establishing how hip-hop rose from the East Coast at the "boogie down Bronx" block parties during the 1970s. The New York inner city had a high crime rate, run-down buildings and debris in the streets painted the backdrop to the new music that the late D.J. Love Bug Starksi coined Hip Hop .
"Set in the West" weaves together how both coasts contributed to what eventually became a cultural movement with four major art forms: graffiti, emceeing, dejaying and "b-boying" or dance.
"West Coast rap hit the industry real hard because when it came to the "lyrics" the West Coast did not hold back," said DJ Dr.Funkenstein" of Uncle Jamm's Army.
"The lyrics came from the heart and from the streets. That is why 'PARENTAL ADVISORY' had to be put on albums and CDs. Then came the beat. The West Coast had beats that were crazy , but people were loving it !"
When asked why would Amadeuz spent five years and his own money to fund a documentary about a genre that legendary hip-hop artist Nas says is dead and comedian Chris Rock say he's ashamed to admit he likes? "Since I'm from L.A., I had to put this together to show the world what L.A. did for the culture and, what a group of guys from this city did that would impact the world since Hip Hop is now global," said Amadeuz.
Radio personality Ashley Caprice will host the screening and Lonzo Williams, Sadiki Bakari and DJ Dr. Funkenstein are expected to attend. Visit setinthewest.com for more details.