Proposed South L.A. plaza mired in pride and politics
Long awaited District Square
Merdies Hayes Editor | 6/6/2019, midnight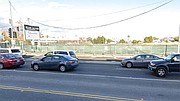 For more than a decade, there has been a grandiose plan to increase the residential-retail footprint in the Crenshaw District by constructing District Square at the corner of Crenshaw and Obama boulevards. It was a plan to not only improve the financial climate of the neighborhood, but also to attract in-demand shops and services to a rapidly changing part of South Los Angeles.
The 6 1/2-acre site was part of the vaunted "shovel-ready" series of construction plans during the Obama Administration. These were supposed to brighten and revitalize some of the nation's most needy regions. They were designed to put people back to work during the Great Recession and leave a lasting imprint of modernization and progress.
A long wait for improvement
Nearby stakeholders are waiting patiently to witness this improvement. So far, all they've seen daily is a dusty vacant lot while a similar project planned roughly at the same time—the University Village at USC—has been up and running for two years. Construction of the Crenshaw/LAX Metro line is reportedly running on schedule, as is Los Angeles Stadium at Hollywood Park about three miles away. Residents so far have had to forgo this new commercial plaza, and city officials have essentially stopped addressing the matter. There is no new supermarket, no sit-down restaurant(s), no retail establishments and, unfortunately, no new housing in a city badly in need of more shelter, particularly for low-income residents.
The area has long been in need of basic goods—more clothing stores, eateries, fresh groceries, etc.--but the delay in needed aesthetic upgrades has some residents wondering if swift improvements are first and foremost on the agenda at City Hall.
"It's a shame that they removed the grocery store and convenient shops and have not replaced them," said Earl Richardson, a long-time resident of the Crenshaw District. "Now we have to travel a longer distance for simple things that ordinarily should be available within walking distance. What has turned out so far is very disappointing."
Originally conceived in 2007
The project was suggested originally in 2007, with construction set to begin in 2012 and completion by early 2014, according to city planning documents. Other projects in the area have also not panned out, such as the new West Angeles Plaza that would have included a Fresh & Easy supermarket. This corporation would later close all of its 30 stories in Southern California. Then there was Marlton Square, another proposed shopping center in the Crenshaw District, which has been stalled for years.
Originally, the Charles Company would serve as contractor for District Square citing the development as the latest example of economic development along the Crenshaw Corridor. They had banked on the opening of several stations along the Crenshaw/LAX line—along with strategically placed street parking and a more "pedestrian friendly" environment—as a key to increased retail dollars that could be used to attract even more businesses along the famous thoroughfare that for years has been termed as "The Strip" as a counter to its more famous cousin the Sunset Strip across town.