Oregon passes bill punishing racist 9-1-1 callers
Oregon
Carol Ozemhoya | OW Contributor | 6/6/2019, 11:57 a.m.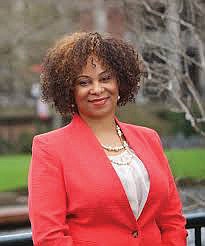 Almost a year after Oregon state Rep. Janelle Bynum's story of being questioned by police after a 9-1-1 call was placed on her as she campaigned in her district, Oregon state senators passed a bill that allows the victims of frivolous discriminatory calls to police to sue the callers.
According to Vox earlier this week, the Oregon state Senate passed House bill 3216, a measure introduced by the state's three Black Democratic legislators, including Bynum. The bill allows victims of these calls to sue a 9-1-1 caller for as much as $250 if the victim can prove that the 9-1-1 call was racially motivated and that the caller intended to discriminate or harm the reputation of the victim. State lawmakers of both parties overwhelmingly supported the legislation, but it was deeply personal for Bynum, the only Black legislator in the Oregon House (the other two Black legislators serve in the state Senate).
"When someone gets the police called on them for just existing in public, it sends a message that you don't belong here," Bynum told the Associated Press "This creates a legal pathway to justice." The bill, which passed the Oregon House in April, will return to that chamber to resolve a minor discrepancy. If the new version of the bill is approved, the measure will be sent to the desk of Gov. Kate Brown, a Democrat. The bill comes as legislators in several cities and states are debating how to best respond to unnecessary 9-1-1 calls on Black residents after a number of high-profile "Living While Black" incidents have gone viral. In the past several months, there have been numerous examples of "Living While Black" incidents — stories of Black people being viewed with suspicion, subjected to 9-1-1 calls, or confronted by police officers or armed civilians for simply existing in public spaces.