Talented soccer team captures national title
South Los Angeles Legends
Gregg Reese OW Contributor | 7/25/2019, midnight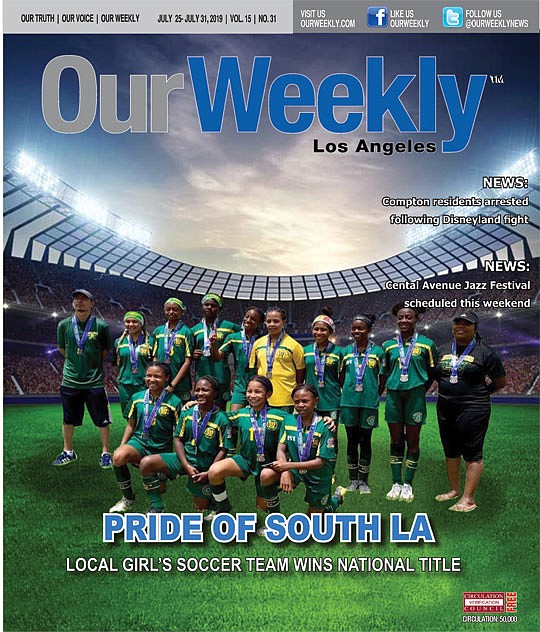 An outstanding component of the championship run is 12-year-old MVP Skyla Wilkins, who plays center mid-fielder. A four-and-a-half- year veteran, she took to the sport straight away, and has been an all-star in each of her four seasons—in addition to her participation in volleyball—with plans to pursue cross country next year. A straight "A" student scholastically, she enjoys art and sketching and counts math as her favorite subject, while soccer remains her passion. Her mother, Wendy, a native of Honduras (while her father is African-American) who claims no experience in the sport, believes her daughter is a "natural" who aspires to win the World Cup herself one day.
Even at this tender age, the component of race manifests itself, in terms of questionable calls and the realities of financial inequality come into play.
Next year marks a transitional period for the team, most of which will move up to "Club" status, where the competition is fierce, and the demands of travel and being away from home are more involved.
Community, politics, and social welfare
Youth soccer in Los Angeles has had its own unique and wayward path to fruition. Commonly associated with the populations of Mexico, Central and South America—a demographic that has generated its own share of controversy—the sport initially made its "beach head" among the more affluent White establishment of the United States. Recreational areas in America are largely focused on the major sports that dominate
"Yankee: culture: i.e. baseball, basketball, and football. In the urban metropolis, the focus is on the African-American dominated giants of basketball and football.
Political and social upheaval south of the U.S. border spawned a migration of the dispossessed northward, a process that continues to this day. The new arrivals naturally desired recreational outlets, ideally similar to those familiar to them in their native lands, and facilities available to them were meager at beat.
Meanwhile, political manuevering—a constant activity in any metropolitan area—hit upon the time-honored scheme of recreational programs as a method of preventing/ inhibiting the social ills of delinquency, and youthful dysfunction in general. Among the names attached to this maneuvering were former Gov. Gray Davis and former Los Angeles City Councilmember Gloria Molina. Other entities, illicit and legitimate, threw in their support, generally along ethnic and racial lines. Some of these have been documented within formal treatises, but more often have been gathered through scuttlebutt through neighborhood rumor mills and community griots of questionable origin.
Whatever works
During the mid-80s, Hispanics—who resided in African-American neighborhoods—would show up early to public parks and play soccer. Their games would typically end when African-American youth would take over the playing area to play football, a tradition that existed for years. This would force the Hispanic soccer players to relocate to vacant lots in other parts of South Los Angeles.
The late Juanita Tate, a member of the non-profit Concerned Citizens of South Central Los Angeles, utilized a vacant lot (previously a dumping ground) at the corner of Main Street and Slauson Avenue as a make-shift playing field. Though illegal, it was officially the first soccer-specific field in South Los Angeles. It was utilized as an impromptu soccer arena, hosting games until midnight illuminated by portable generators. Eventually, the Los Angeles Unified School District shut it down.
Meanwhile, among the more reputable city leadership moving within legitimate channels, the procurement of justifiable recreation became a political bargaining chip, earmarked to secure votes in future elections. Molina, in tandem with Davis, held a meeting where in she explained that inadequate recreation constituted a violation of her constituent's civil rights. In due course, the LA City Council (abetted by Cardinal Roger Mahoney) coughed up $2.4 million to secure a lot further towards the west side and developed it. Today, it exists as the Kenneth Hahn Recreation Park, which turn spawned the AYSO Championship 12U team in a season wherein they won 45 games.