Obesity among Black women outrageously high
Balancing sex appeal and good health
Darcie Ortique OW Contributor | 7/18/2019, midnight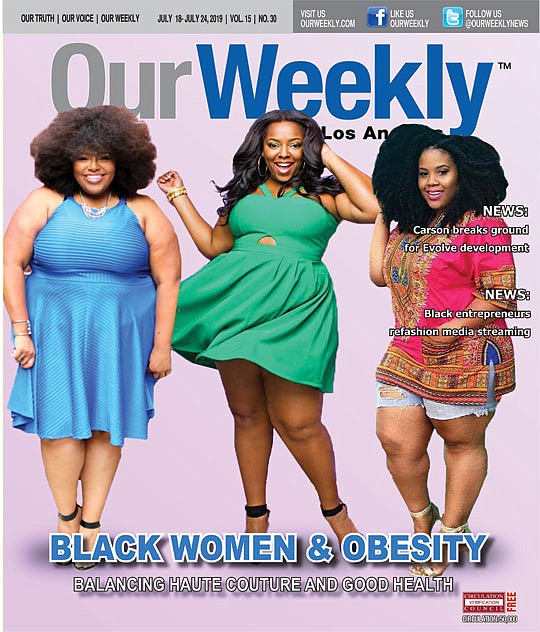 Deciding to eat healthy
The U.S. Department of Health and Human Services Office conducted a study in 2015 that revealed African-American women were 60 percent more likely to be obese than non-Hispanic White women. Today, there is still a disproportionate ratio between the height of most African-American women and their weight which is how body mass index is measured.
"If you look at a lot of those commercials for fast food industries, you will see they're specifically targeting African American communities and it's sad, but it's something that we as a culture, have sort of allowed to happen," White explained. "These industries are multi-billion dollar industries for a reason because we continue to give them our dollars." Most fast food commercials feature African-American women promoting greasy, fattening foods that are high in cholesterol and lead to diabetes, strokes and heart attacks.
Percell Keeling is a distance runner and owner of Simply Wholesome, a full-service health food store and restaurant in Los Angeles. Keeling works alongside health professionals to help provide insight for the community on eating healthy and helping to increase life expectancy.
"We have nutritionists on-site… A lot of individuals will come in and ask about certain problems they might have," Keeling said. "What's interesting to me is that a lot of individuals will come in after they've exhausted everything from the doctor."
Keeling and his team sell fresh foods and natural, holistic products. Consumers have a variety of organic foods to choose from at Simply Wholesome. Whether you are vegan, vegetarian or a meat-eater, Simply Wholesome provides a tasty, Caribbean twist to healthy eating. Keeling recalls recognizing the need for exposure and resources for natural foods when he first opened his business. "It costs money to eat well, unfortunately," he said. "The system is kind of set up like that now… A lot of times most people are a product of their environment, even if it is on a subconscious bases."
According to the Centers for Disease Control and Prevention, Black women had the highest percentage of fast food consumption at 42.9 percent versus 36.3 percent of White women and 35.8 percent of Latino females. In addition to proper nutrition, exercise is a key component to combat obesity and other cardiovascular complications. The U.S. National Library of Medicine reported only 36 percent of adult African American women achieve the national physical activity guidelines for aerobic activity.
Regular exercise key to weight loss
Jonathan Denzel Sergent is a certified elite personal trainer, nutrition specialist, licensed massage therapist and a self-defense coach in Los Angeles. He works with a variety of female body shapes.
"My target audience is women of all shapes, sizes and workout history (beginner, intermediate, advanced)," Sergent said. With six years of experience as a all-in-one fitness expert, Sergent opened his own business, Denzell's Gazelle's-- an initiative designed to empower women to live healthy lifestyles.
"My aim is to help women identify their goals, design a fitness program that fits their needs, guide them through every exercise, every 45- 60- or 80-minute workout and have them feeling refreshed after a free, 30-minute massage," Sergent said.
Unlike many fitness experts, Sergent takes a realistic approach to coaching women and helping them to reach their individual goals. He offers free consultations to those seeking a change in lifestyle and recommends seeking professional expertise on how to manage weight loss. "You need an outside look into your dietary needs," Sergent said. "Foods that work for some people may not work for you."
Despite the cultural standards and familiarity of "plus size" African-American women—and the accompanying labels such as "plump," "stout," "heavyset," "healthy," etc. there are dire health consequences for this segment of the population if their weight continues to increase. These include onset diabetes, heart disease, high blood pressure, high cholesterol, bone damage, and a declining self-esteem that may accompany severe weight accumulation in a world that can unfairly place a premium of a slim and svelte physical appearance.