Obesity among Black women outrageously high
Balancing sex appeal and good health
Darcie Ortique OW Contributor | 7/18/2019, midnight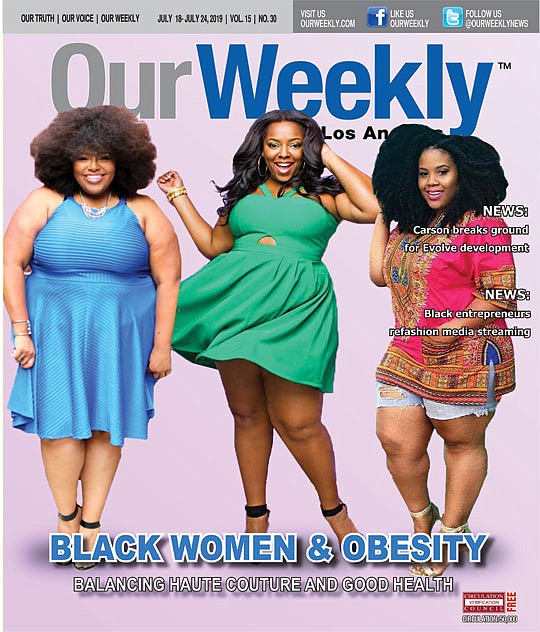 Betty Busby, 55, has struggled with her weight since high school. "It's in my genes to be chubby, and I have always thanked God that I have a man that loves my shape," she said. "He still thinks I'm sexy with my small waistline, big hips and thighs. I will be forever grateful for that."
However, Busby's significant other has been upset—and sometimes frustrated—with her recent drop in weight and size of her hips. "I'm attempting to improve my health by dieting and exercising," Busby explained. She is under a diet regimen and is taking medication for high cholesterol and hypertension after feeling the pain of extra lower-body weight. "I sometimes get annoyed because he is constantly [overseeing] my meals and complains about the difference in hip size."
Living with constant harassment
In addition to health issues, Busby said her shape has caused problems in shopping for clothing that smaller women can typically buy off-the-rack. Men are often verbally assertive with unsolicited comments and reactions to well endowed women. "As a young adult, I had to learn to live with the harassment," she said. "Butt slaps were really offensive. I just hated when a guy would not back down with coming up to me in a public place. I asked one guy why he was so persistent and he responded with: 'I'm afraid if I go home without your number, I'll never meet someone like you again.'"
Busby also said the work world can be a tricky environment, particularly if you encounter a female superior with different [smaller] physical attributes than you. "Males will move boxes for you, open doors and pay special attention to you," said Busby who is employed by the Los Angeles Department of Public Social Services.
African-American women are reportedly more susceptible to being overweight or obese than any other race. The U.S. Department of Health and Human Services Office of Minority Health has reported that roughly four out of five African-American women are either overweight or suffering from obesity. This statistic has a lot to do with the long-standing history of the African-American culture, socioeconomic status, stress, and dietary habits that have been passed down from one generation to another.
Cultural standards and barriers
Some will argue that there are a number of cultural barriers (fashionability, family responsibilities, stressful lifestyle) that may also challenge or prevent many African-American women from exercising regularly. United States Surgeon General Regina Benjamin stated in an interview for the Chicago Tribune, "Oftentimes you get women saying, 'I can't exercise today because of my hair or get my hair wet.'" For some, there's a trade-off between preserving heat-required hairstyles and physical fitness and research suggests that misplaced vanity is at the root of the problem.
To the contrary, African-American men and the media have also supported plus-size and curvy women, which have made many overweight African-American women feel comfortable in their skin. The Washington Post and the Kaiser Family Foundation conducted a poll to get the perspective directly from the source. According to The Washington Post, the poll revealed that "although Black women are [generally] heavier than their White counterparts, they report having appreciably higher levels of self-esteem. That figure was 66 percent among Black women considered by government standards overweight or obese."