Numbers cast doubt on Trump's view of Black employment
Local job centers more responsible for paychecks
Josanta Gray OW Contributor | 7/18/2019, midnight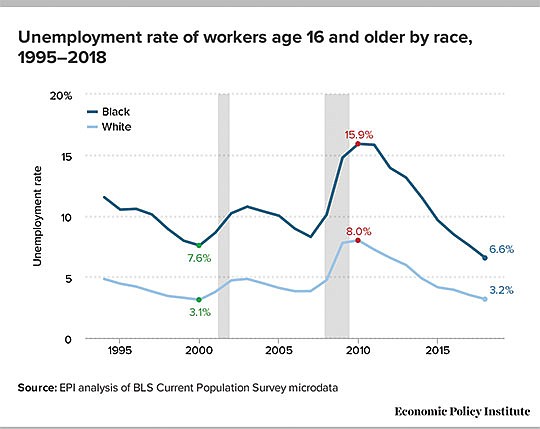 Given the constant decline of the nation's unemployment rate, it is safe to say Trump's rhetoric does not match reality. It is inaccurate to credit this achievement to his economic agenda when it is a continuation of President Obama's efforts. More credit can be awarded to local employment-preparation outlets, such as the Inglewood One-Stop Career Center, that has worked for years to decrease the rate from a staggering 16 percent since 2011. As well, the Maxine Waters Employment Preparation Center in Watts has realized similar success in placing more African-Americans onto the job rolls.
"What we're doing benefits individuals who historically have had a hard time getting a job," said Jan Vogel, executive director of the South Bay Workforce Investment Board. "We have a number of programs to help people not only get a job, but also stay employed. Now, we are working very closely with the population that's getting out of prison. That group has a high unemployment rate. Many companies are now open to hiring and serving these individuals. This wasn't always the case."

Inglewood One-Stop Career Center is a local business and career center that provides the community with access to a wide range of services from career counseling and placement assistance to professional training. In partnership with local businesses, the center is committed to equipping the underemployed with skills essential for participation in today's market.
"I was unemployed for about a year and half before finding a job after visiting the job board [at the One-Stop career center]," said Latoya Hodson, a 42-year-old Inglewood resident. "It took me that long to find a job that only paid $9 an hour. Keep in mind, that was 12 years ago. Nowadays, it's really bad."
California's Black unemployment rate is not the worst in the country. According to the EPI, during the fourth quarter of 2018 the Black unemployment rate was lowest in Virginia (4.3 percent) and Florida (5.1 percent), and highest in the District of Columbia (11.8 percent) and Pennsylvania (8.9 percent). Thanks to the various economic development projects happening across the state, Californians will continue to see this rate improve. According to the California EDD, in May 2019 the state gained roughly 19,000 non-farm jobs mainly in the construction and hospitality industries. These gains accounted for roughly 26 percent of the nation's total 75,000 job increase for the month.

"At the Inglewood One-Stop Career Center, we've been able to get a lot of individuals jobs because of the activity with the stadium and Hollywood Park project. Particularly, these jobs are in construction," said Vogel. "About 70 percent of people to get directly hired were underserved African-American males."
In addition to One-Stop, Hodson believes African-American business owners should be given credit for creating new opportunities that have helped decrease the unemployment rate over the years. According to a recent report commissioned by American Express, the number of women-owned businesses grew 58 percent from 2007 to 2018, businesses owned by African-American women grew164 percent.
The California EDD does not have any data regarding the number of Black unemployed people who have transitioned from unemployment to self-employment. However, according to a 12-month Current Population Survey (CPS) from May 2019, 1.57 million Californians are self-employed, 8.9 percent are White followed by Asian (6.7 percent) and Black (6.3 percent).
"Trump is such a narcissist. He really thinks he's changing the world," said Courtney Teagle, founder of LaBree Boutique, a new boutique hair supplier in Los Angeles. "I don't think unemployment has decreased among Black people for any reason except that we have to fend for ourselves. I started my business this year and it was born out of necessity to survive. I needed income and I couldn't get it anywhere else. Therefore, I created a job for myself."