McCarthy urges action protecting military bases from earthquakes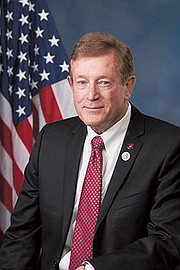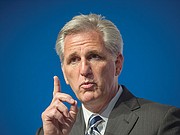 This week, House Minority Leader Kevin McCarthy (CA-23) and Rep. Paul Cook (CA-08) introduced an amendment to the Fiscal Year 2020 National Defense Authorization Act (NDAA) to prioritize necessary repair and modernization work at the Naval Air Weapons Station (NAWS) China Lake following damage the base sustained from recent earthquakes in Ridgecrest.
McCarthy issued the following statement:
"Having seen some of the damage firsthand, last week's earthquakes were devastating to NAWS China Lake and our community of Ridgecrest. Despite the destruction, our American spirit has prevailed in the face of adversity, with people from all over the state coming together to help our neighbors. But we are still recovering.
"NAWS China Lake, along with Edwards Air Force Base and Fort Irwin, are national assets. With the epicenter of the earthquakes on China Lake, the Navy is still assessing damage, but we need to ensure that we are not only repairing this important base to address the threats facing our nation today, but also making necessary investments to counter emerging threats in the days ahead. My amendment authorizes $100 million to help address China Lake's most immediate needs and requires the Department of Defense to modernize infrastructure and facilities at China Lake as part of the efforts to return the base to mission-capable status. We will make China Lake stronger and better. "These bases are critical to the region and our national security, and I urge my colleagues on both sides of the aisle to support this amendment to provide much-needed assistance to areas most impacted by the earthquakes in Ridgecrest and other natural disasters."
Rep. Cook also issued a statement:
"Last week's earthquakes damaged key military installations in the area. Congress has a duty to ensure these bases are operational and mission ready. We owe it to our men and women in uniform that they have the best tools possible to defend our national security. I thank Leader McCarthy for joining me in recognizing the importance of this amendment and hope that the House will pass it this week."
On July 4th and July 5th, two major earthquakes struck Kern and San Bernardino Counties, followed by hundreds of aftershocks that are ongoing. The epicenter of these earthquakes was located on NAWS China Lake.
—The Fiscal Year 2020 NDAA establishes policy and priorities for the U.S. Department of Defense and service branches, incluidng the U.S. Navy.
—The McCarthy/Cook Amendment would authorize $100 million to help meet exigent rebuilding needs at NAWS China Lake and other military installations damaged by earthquakes this year.
—The amendment would also require the Secretary of Defense to fast track a plan to assess, modernize, and repair NAWS China Lake and other bases in the R-2508 Special Use Airspace Complex damaged by California's July earthquakes. Called the Earthquake-Damaged Infrastructure Restoration Master Plan, the amendment requires that this plan be submitted to Congress no later than Oct. 1, 2019.
—The R-2508 Special Use Airspace Complex includes Edwards Air Force Base, Fort Irwin and NAWS China Lake.