Ayanna Pressley tells Kellyanne Conway: 'Shut your lying mouth'
Massachusetts
Carol Ozemhoya | OW Contributor | 7/10/2019, 11:25 a.m.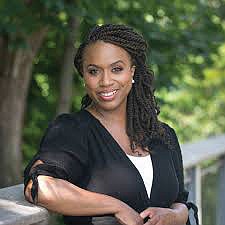 New female minority members of the House and the Senate aren't playing when it comes to standing up for themselves. Democratic Rep. Alexandria Ocasio-Cortez already has a record of being very vocal and standing up against Republicans and President Donald Trump during her short term in office so far, and now it's clear Democratic Rep. Ayanna Pressley isn't going to sit by and endure verbal abuse either.
Pressley tore into Kellyanne Conway on Tuesday, telling her to "shut her lying mouth" after the White House counselor mocked the reported tension between House Speaker Nancy Pelosi (Democrat) and freshmen Democrats. According to the Huffington Post, Pelosi has been "sparing" with Pressley, Ocasio-Cortez, Rashida Tlaib (D-Michigan) and Illhan Omari (D-Minnesota) in regards to the proposed immigration bill that gives billions of dollars to Border Patrol and Immigration and Customs, two agencies which have come under fire for the terrible conditions at the U.S./Mexican border.
Conway got downright catty, as she called the tension between Pelosi and the four other high-profile female congresswomen a "major meow moment and a "huge catfight two sexist phrases used to characterize arguments between women. Pressley responded quickly on social media, tweeting and calling Conway "Distraction Becky and saying, "Remember that time your boss tore babies from their mothers' arms and threw them in cages? Yeah, take a seat and keep my name out of your lying mouth." Pelosi supposedly slammed the four women of color for voting against the bill and voicing their concerns, but a total of 95 House Democrats voted against the bill, which provided funding for humanitarian efforts at the border but failed to provide humanitarian guarantees for detained immigrants, especially children.