Valery Augustin wants more Blacks in architecture
Celebrated USC professor
Lisa Fitch OW Contributor | 7/3/2019, midnight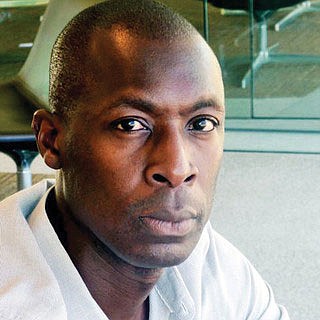 Architecture is all around us and can sometimes be taken for granted as we commute past buildings, parks and other facilities on our way to our chosen destinations. Structural design certainly wasn't front of mind for Valery Augustin as he was growing up in New York and Florida.
"Architecture didn't really exist in my world," Augustin said. "I would have to say that I fell into the profession. I'm from the wrong side of the tracks, for lack of a better term."
For the last 13 years, Augustin has been teaching and he currently serves as an associate professor of practice; director of global studies at the USC School of Architecture.
"Architecture was called the gentleman's profession," Augustin said. "There is still a gender imbalance and the profession is lacking in diversity. There's a lot of history there and it's become a topic of conversation—how to become more inclusive."
Augustin received his bachelor's in Architecture from the University of Miami. He has a master's in Architecture from UCLA.
"Some students give me a little grief about that," Augustin said, referring to the cross-town rivalry. "But I always remind them who gives the grades."
Augustin himself felt a bit ill-prepared when he graduated from high school.
"When I got into college, I was looking to study civil engineering," Augustin recalls. "Then I asked an advisor, who said I tested good in math and I should try architecture. I always had a love of art, drawing and painting as a child and young adult."
"I walked over there, fell in love, and the rest is history," Augustin said. "It was a little bit intimidating at first. The other kids had architects in their families; some already had tools and were a little more knowledgeable."
Although Augustin is quite busy with a variety of projects at his firm, DNA Architecture + Design Inc., he's ready, willing and able to pass on his knowledge of the industry, not just to USC undergrads, but to local high school students as well.
He recommends that younger people starting out should get in contact with a variety of schools in town and learn more about the educational aspect of it.
"There's also a student group for NOMA, the National Organization of Minority Architects," Augustin said.
"A number of local Universities have summer programs in architecture, which are open to [high school] juniors and seniors," he added. "They can come during the summer and get exposed to the practice of architecture."
USC is preparing to launch a year-round program affiliated with local South LA high schools, starting in the fall of 2020 and targeting minority interest in the profession.
Although he has taught and coordinated high school summer courses in the past, Augustin is not currently involved in the program, as his global studies work has him overseeing USC's study abroad programs in Italy, Barcelona, and Asia.
Prior to establishing his own practice, Augustin was a designer at a number of internationally recognized firms including Swanke Hayden Connell Architects in London, England; Oppenheim Architecture and Design in Miami, Fla., and Frederick Fisher and Partners Architects in Los Angeles.