Statue in Louisville under scrutiny by Black and White
Kentucky
Carol Ozemhoya | OW Contributor | 7/3/2019, 12:22 p.m.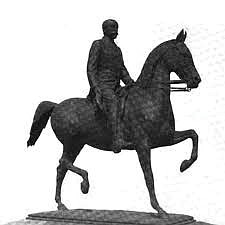 Supporters of keeping a controversial statue of John Breckinridge Castleman at the opening of Cherokee Park rallied at the roundabout Tuesday in Louisville. People in favor of keeping the statue argued that Black people — both then and now — supported Castleman and that the narrative about him is skewed, reports WFPL.org.
Castleman served as an officer in the Confederate Army, before going on to serve as a brigadier general in the U.S. Army and play a role in the creation of Louisville's parks system. Groups such as the newly formed Friends of Louisville Public Art argued the city should keep the statue because Castleman's good deeds outweigh his service in the Confederacy. They also argued that city leaders and the media haven't painted Castleman accurately. Martina Kunnecke said she's concerned this is an attempt to change history.
"It is always troubling when history is cleaned up, dirtied up, fashioned to fit a political purpose, which we feel in the case of the Castleman statue, that is what has happened," Kunnecke said. Kunnecke is with a group called Neighborhood Planning and Preservation, and she's African-American. And though both Kunnecke and Friends of Louisville Public Art have spoken publicly in defense of keeping the Castleman statue in the past, Tuesday's event was a little different. Despite Castleman's service in the Confederacy — and his loyalty to that cause which continued until his death — supporters are making a public relations push to argue that both in the past and currently, Black people supported Castleman too.
Architect and historian Steve Wiser offered up quotes from two Courier Journal letters to the editor that suggest Black people in the early 20th Century supported Castleman. One was from a eulogy after Castleman's death; the other opposed city moves to segregate Louisville parks. And besides Kunnecke's testimony, Wayman Eddings also offered his support. Eddings is Black, and previously ran unsuccessfully for the Jefferson County Board of Education in 2018 and for Kentucky's House of Representatives in 2016. He said people should understand history before making decisions.
"When I look at the Castleman statue, I look at a piece of art, but also a piece of history," Eddings said. "That hearkens back to men and women who helped to found this community from many different origins." Apparently, Castleman had a complicated past. According to historian Tom Owen, he was berated by Whites after saluting a Black officer at Camp Taylor. He also once prevented a group of White people from killing two Black men being held in a jail.
"I think Castleman was seen by many African-Americans as a person, who had in the context of rising Jim Crow demands, had resisted some of those demands," Owen said. But Castleman's allegiance to the Confederacy lasted until death; he requested his casket be draped in both the American and Confederate flags.