Campaign underway to save Nina Simone's childhood home
North Carolina
Carol Ozemhoya | OW Contributor | 7/2/2019, 10:31 a.m.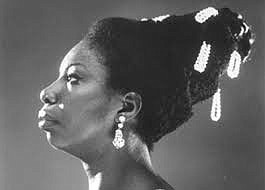 Last June, the home of legendary singer Nina Simone was designated as a National Treasure by the National Trust for Historic Preservation, reports Billboard. Now that same organization is launching a campaign via crowdfunding to assist in restoring and preserving the later civil rights activist's home. One of the high profile joining the effort is singer/songwriter John Legend. Also in on the project is Oscar-Award winning actor Mahershala Ali, Issa Rae and Talib Kwei.
The clapboard pier and beam house helped inspire some of Simone's most powerful work, including the songs "Mississippi Goddam" and "Four Women." The public can also make donations to the National Trust's crowdfunding campaign through IndieGoGo and also buy newly designed Simone-inspired merchandise. Those items include T-shirts, artist prints, pins and postcards with artwork by North Carolina-based artist Dara Coulter. Additional merchandise donated by the aforementioned celebrities, including Kweli, Ali and Rae, will also be available for purchase.
"Spaces devoted to the history and legacy of people of color, especially women of color, are far too few in America today," said Legend in a release announcing the crowdfunding campaign. "Preserving places like the Nina Simone childhood home will help keep her powerful story alive. This campaign pays tribute to Simone's unapologetic pursuit of musical, personal and political freedom. I'm proud to be a part of it."
The National Trust is also taking the Simone crowdfunding campaign on the road, bringing it to the Essence Festival in New Orleans (July 5-7). Simone's home is the first music site to be restored by the National Trust's African American Cultural Heritage Action Fund. Stated Brent Leggs, the fund's executive director, "This modest home in Tryon embodies the story of a young Black girl who transcended the constraints placed on her in the Jim Crow South to become the voice of the civil rights movement.
Simone's childhood home provides an important lens for examining the contours of her life. And through its preservation, we hope to celebrate and cement her legacy in our American narrative."