Democratic presidential field continues to expand in campaign against Trump
Sen. Kamala Harris announces bid
Merdies Hayes Editor In Chief | 1/31/2019, midnight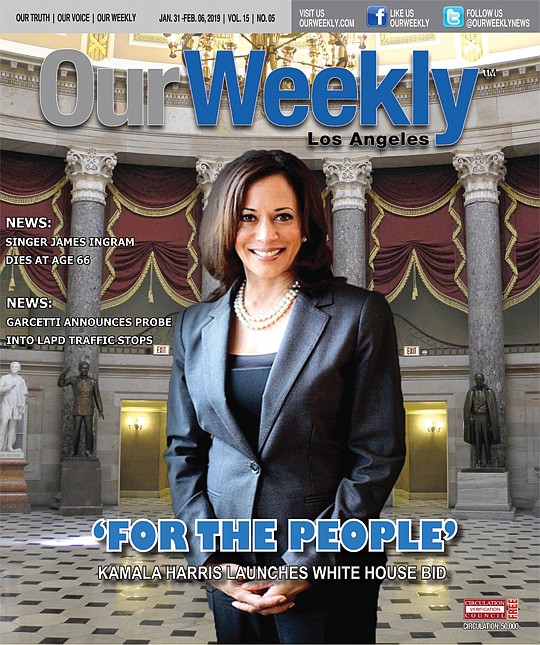 "These numbers reveal a campaign powered by the people—an energetic, nationwide movement eager to elect Sen. Harris and support her vision of an America that actually works for the people," said Mike Nellis, a digital strategist for the Harris campaign.
Harris' roll out on Martin Luther King Jr. Day was not a casual event. Nor was her decision to visit South Carolina even before her kickoff rally in Oakland. These events weren't necessarily done to capitalize on her status as the only Black woman in the 2020 Democratic presidential field, but the symbolic timing of her announcement and the nature of the events are hard to ignore. Because Black voters play a significant role in the Democratic base—and under party rules congressional districts with overwhelming Democratic performance receive more delegates—this early move by Harris could multiply the value of the Black vote not only in California but throughout the nation.
Harris touts middle class tax cut
Harris will have to be a top finisher in the early states (Iowa, New Hampshire, South Carolina) that traditionally trim the field of candidates. South Carolina, in particular, is a crucial primary and she may have a decided advantage among Black voters there. On Monday, Harris was in Iowa for a CNN Town Hall where she touted her middle class tax cut proposal as a first priority. Her LIFT the Middle Class Act (Livable Incomes for Families Today) would provide a refundable tax credit of $6,000 for married couples earning up to $60,000 a year. Single filers making up to $30,000 and single parents earning up to $80,000 would receive a credit of $3,000.
"We have so many families in America right now that are a $500 emergency away from complete financial catastrophe," Harris said. "People at the top 1 percent—people who are making anywhere between $10 million a year and $50 million a year, they need to pay more taxes." Harris has also proposed "Medicare for all" as a single-payer health insurance option in recalling how her mother was fortunate to have Medicare when she was dying of cancer a decade ago. It was a not-so-veiled veiled reference to campaign statements by 2008 presidential candidate Barack Obama whose mother reportedly had to battle insurance companies while she, too, was fighting cancer.
"We have to appreciate and understand that access to healthcare should not be thought of to be a privilege," Harris said. "It should be understood to be a right."
Harris's slogan, "Kamala Harris, For The People," stems from her career as a state and Bay Area prosecutor and is meant to speak to her toughness and advocacy. However, her party's record, as ascribed by the largess of Republican voters, tends to be two-fold in the theory that democrats continue to be "soft on crime" which has become a somewhat thorny issue for a party where criminal justice has become a central issue.
"I've been consistent my whole career," Harris said in response to a question directed at her "contradictory" past. "My career has been based on an understanding that, one, as a prosecutor, my duty was to seek and make sure that the most vulnerable and voiceless among us are protected. I've worked my whole career to reform the criminal justice system, understanding, to your point, that it is deeply flawed."