I White suspect, 1 Black suspect encounter Milwaukee cops – only Black suspect shot
Wisconsin
Carol Ozemhoya | OW Contributor | 1/7/2019, 3:32 p.m.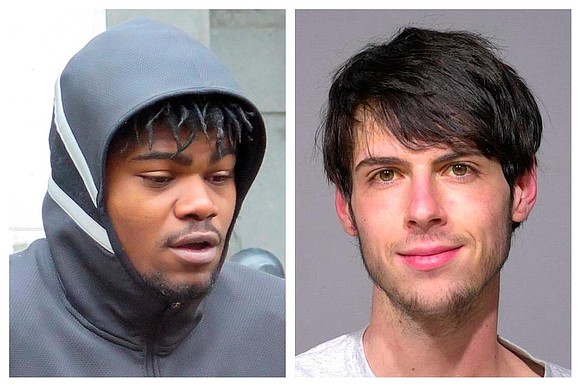 The stark reality of racism in American law enforcement reared its very ugly head again in an urban center, this time in Milwaukee. According to the Associated Press and U.S. News & World Report, two different suspects – one White and one Black of relatively the same age – encountered police.
Although the White suspect was armed, he was not shot, while the Black suspect, reportedly unarmed was shot. That the Black man was the one who was shot — though he had no weapon — might come as little surprise at a time when police shootings involving Black men seem commonplace nationally. Milwaukee has been an epicenter. In 2014, Dontre Hamilton , a mentally ill man, was shot 14 times by police. In August 2016, 23-year-old Sylville Smith was killed by an officer. After the first, the city equipped police with bodycams; after the second, there were riots.
The shooting of 19-year-old Jerry Smith Jr. in 2017 did not set off similar convulsions. And the blood-free resolution of the standoff involving 20-year-old Brandon Baker this past November drew little notice. But taken together, they prompt a difficult and unanswerable question: If their races were reversed — if Smith were White, and Baker were Black — would Baker have been the one who was left bleeding and writhing in pain?
In the darkness on Nov. 6, Election Day, Baker took to the roof of his apartment building and started firing guns. His neighbors, alarmed, called police. Until then, his criminal record consisted of minor traffic violations, pot possession and carrying a concealed weapon in September. He'd created his Twitter account a few days prior and started writing about running for governor, promising money for underfunded schools, pledging to legalize marijuana. He would pardon all felons so they could regain their right to bear arms.
Just after 5 a.m., two police officers sent to the scene encountered Baker on Michigan Avenue, in front of the entrance to the building. He refused to drop the AR-15 semi-automatic rifle he was holding. He admitted that he had fired the shots earlier, and said he had posted a video of it on Twitter. He told the officers he was running for governor, that he was going to the polls to "air it out," that he was going to start a militia. He had a right to bear arms, he said. As they talked, other officers approached him quietly from behind, and tackled him.
"I'm not moving, don't shoot me!" Baker screamed in the video he was broadcasting, which WISN-TV obtained before its removal from Twitter. Not a shot was fired. In addition to the rifle he was holding, Baker had three loaded handguns — one in his backpack, another in his waistband and a third in his jacket, prosecutors said. In his apartment, they said officers found 232 grams of THC, the psychoactive ingredient of marijuana; 14 stamps saturated with LSD; and 73 jars of what were believed to be psilocybin mushrooms.
Baker faces numerous charges, including recklessly endangering safety and "maintaining a drug trafficking place." His public defender, which did not respond to requests to comment, has ordered a second doctor's evaluation to determine whether he's competent to stand trial. On Aug. 31, 2017, officers Melvin Finkley and Adam Stahl were on patrol when they received a call about a man with a gun in the predominantly Black neighborhood west of downtown Milwaukee. Finkley is Black; Stahl is White. It was around 1 p.m. when they got to the parking garage at North 29th Street and West Wisconsin Avenue. Jerry Smith was on the roof.