Blackface: The sad return of a bygone social construct
New fad awakens old stereotypes
William Covington OW Contributor | 2/22/2019, midnight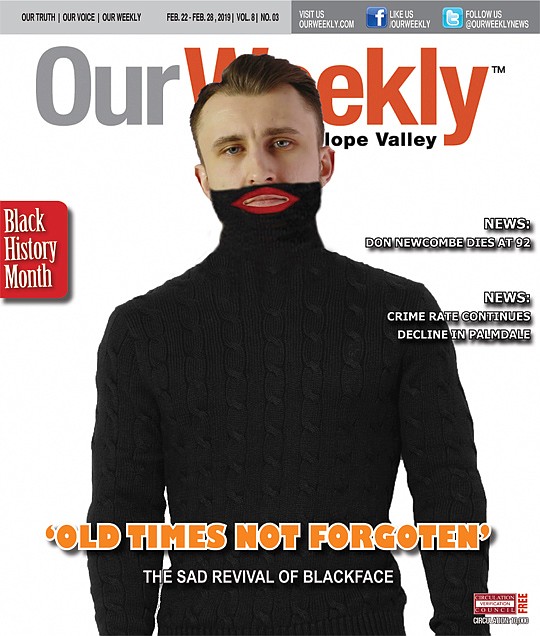 The Fashion Awards took place in November 2018 and, according to several industry magazines, Miuccia Prada earned the Outstanding Achievement Award. But it was Gucci, whose phenomenal popularity managed to snag what could be considered the most exciting title of the evening: Brand of the Year.

In the fashion world, according to Coleman, it currently is a $2.4-trillion-dollar industry with the individual creative director widely regarded as a guide a team of employees with skills related to design, fine arts, motion graphics, and other creative industry skills. From the standpoint of a fashion creative director, examples of this are seen in visual layout, brainstorming, and influence from different cultures. To assume the role of a creative director, Coleman explained, a person must possess a specific skill-set and have expertise in many areas of the fashion industry. Coleman suggested that individuals such as Alessandro Michele of Gucci, Miuccia Prada of Prada Fashion Company, and Katy Perry of Katy Perry Shoes may be lacking the "skill of judgment" in their design choices.
'Lack of judgment' among designers
Gucci CEO Marco Bizzarri reportedly hired creative director Alessandro Michele a few years ago. Michele has been described in fashion as a "cultural magpie" or, an artist who derives not only inspiration but also specific materials from previously existing works of art when designing fashion. Michele has since apologized for the blackface sweater.
African American fashion designer Francis Wagner believes Michele's influence has given Gucci a more whimsical and inclusive approach to design. He stated that Gucci had experienced a lull in its products prior to Michele's guidance. However, Michele, who has been described as reconnecting Gucci to its historical roots in street culture, has reportedly created tremendous gains in popularity and profits. According to Wagner, the street culture consists of Black talent such as athletes and musical artists who have come to embrace the brand.
Coleman believes Miuccia Prada, an Italian billionaire fashion designer and businesswoman, is directly responsible for approving the blackface doll. According to Coleman, Prada currently serves as the co-chief executive officer and lead creative director of the Italian handbag and fashion label Prada.
"I buck so hard sometimes [on design]. People will bring something to me and say, 'This is such a great basic style.' I'm not a basic; I'm not here for the basic. That's a waste of my time. I'm here to disrupt this sleepyville."--Katy Perry
According to Coleman, the above quote was from a interview Katy Perry did when she launched her fashion line in Spring 2017. Coleman states on her website that: "The Katy Perry Footwear Collection features shoes with a distinct personality. Shoes that turn heads, stop traffic, and start conversations. Designed 100 percent by Katy Perry, the collection is inspired by her travels, passions, and friends."
In preparing this article and reminiscing about my so-called resemblance to a gorilla, it reaffirms my belief that Jim Crow and all of the insults associated with that term have awakened from a state of dormancy and is alive and well within American society.