Patriots defeat Rams 13-3 for sixth Super Bowl title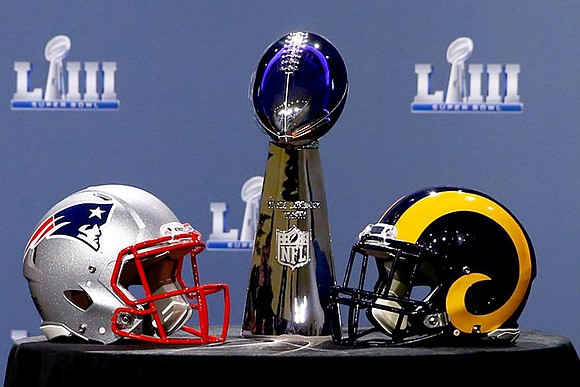 The previous lowest-scoring Super Bowl was Super Bowl VII in 1973 at the Los Angeles Memorial Coliseum, where the Miami Dolphins and Washington Redskins combined for 21 points.
That game was best remembered for Dolphins kicker Garo Yepremian's
bobble after a blocked kick that was grabbed by Washington cornerback Mike Bass
and returned 49 yards for a touchdown in Miami's 14-7 victory.
The Dolphins were held to three points in their 24-3 loss to the Dallas Cowboys in Super Bowl VI in 1972.
The Rams were the first Los Angeles team to advance to the Super Bowl since the then-Los Angeles Raiders in the 1983 season, when they defeated Washington, 38-9, in Super Bowl XVIII.
Super Bowl LIII came exactly 17 years after the Rams' previous most recent Super Bowl appearance, a 20-17 loss to the Patriots in Super Bowl XXXVI, the first of New England's five Super Bowl titles.
Super Bowl LIII was the Rams fourth and second when they were based in Los Angeles. They lost to the Pittsburgh Steelers, 31-19, in Super Bowl XIV on Jan. 20, 1980.
The Rams also played in the NFL Championship Game five times before the Super Bowl was established in the 1966 season, including once when they were based in Cleveland.
The Rams won one NFL championship when based in Los Angeles in 1951, one in Cleveland in 1945 and one in St. Louis for the 1999 season.