Christmas shopping loaded with helpful, handy-dandy gadgets
Who knew you can now lose weight through your toes?
Merdies Hayes Managing Editor | 12/20/2019, midnight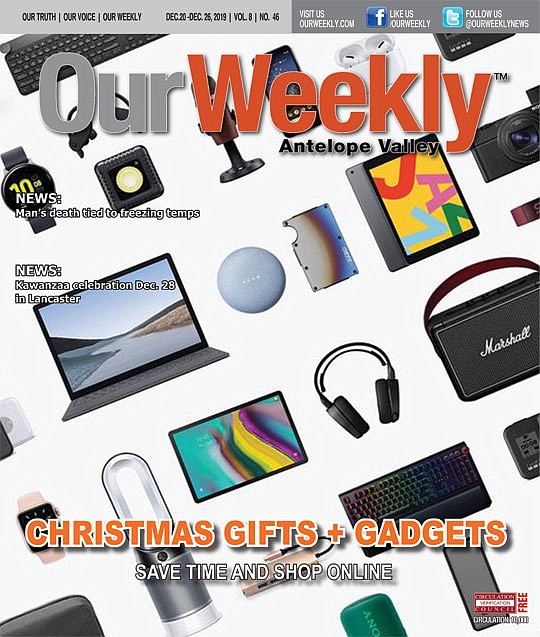 The Christmas season brings with it a variety of gift ideas. This year, gadgets—whether electronic or manual—are some of the hottest sellers bound to impress even the most discriminating person. Tomorrow through Tuesday will witness some of the most determined—and sometimes frantic—consumers at your local retailer trying to find just the right item for that special person.
A website called MySmartGadget has been keeping track of the hottest and most innovative gadgets available for the 2019 Christmas season, most of which can be purchased online with free shipping and special discounts. But you've got to hurry, as some of these items are expected to swiftly fly off the shelves as fast as Santa's team of reindeer:
"FIXD" is a pocket-sized device that plugs into your car's dashboard and instantly diagnoses your car's issues onto your phone screen. This way, you know at all times what problems your car may or may not have, all done without the help of your trusty mechanic.
Eliminate the noise with QuietBuds
Peeps Carbon Technology is vaunted as a safe way to clean your glasses. This item is designed specifically for cleaning eyeglasses, sunglasses and reading glasses. They use a new formula of invisible carbon microfilter that, if "used as directed," will have your glasses as clean as the day you bought them.
QuietBuds can block out all annoying noise and chatter, while still allowing you to hear what you want to hear. Let's face it, noise is everywhere these days and these little earplugs are said to shut out the distracting noise of trains, planes and automobiles. Take them along to loud concerts and sporting events. And you can get a good night's sleep as well, devoid of noisy neighbors and barking dogs.
Would you like to speak up to four languages at the touch of a button? Muama Enence may be right for you. With just a few button clicks, words can be translated into more than 43 languages in real time. It's the ultimate gadget for every traveler, ideal for those persons anticipating a trip to a foreign land.
After the holidays, many people are looking to go on a diet if not only to shed those extra pounds gained since Thanksgiving, but also to encourage overall good health. Fit Track offers a revolutionary new scale that—get this—let's you look inside your body. Simply step on it with your bare feet and it activates a unique technology that monitors 17 key health insights, thereby allowing you to measure, track and trend your health data in real time.
An HDTV antenna can save you money
ThePhotoStick is designed to backup your most precious photos with one click. It's easy to use. Just connect the small thumb-sized drive into your PC or Mac, press "go," and it will automatically sync your pictures and videos into the stick. It even finds and removes duplicates so you don't have to spend hours deleting them. It's perfect for anyone who wants to safeguard their digital memories and doesn't trust "the cloud."