More children challenge world leaders to become vegan
Promoting more healthy lifestyle
Isabell Rivera ow contributor | 12/19/2019, midnight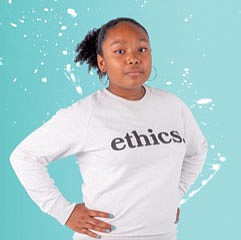 There have been quite a few teen challenges in the past, but none of them offered $1 million to President Donald J. Trump if he decides to go vegan for January 2020.
The global campaign Million Dollar Vegan, which believes in fighting "climate change with diet change," offers President Trump $1 million for U.S. Veterans under one condition - to eat vegan for one month. Trump has not jumped on that offer just yet, but the children who advocate for veganism and a healthier America are not giving up.
The group's previous challenge was to convince Pope Francis to go vegan for Lent and donate $1 million to a charity of his choice. Genesis, a 13-year-old living in Long Beach, Calf. was asked by Matthew Glover, CEO of Million Dollar Vegan, to write Pope Francis a letter and propose the challenge.
"I got an email from Matt Glover asking me if I wanted to help him with the campaign to challenge Pope Francis to become vegan for Lent," Genesis said. "I thought it's important to challenge a world leader to become vegan in a short amount of time, so I said 'yes.'"
The youth even went to the Vatican in April 2019 to personally convince His Holiness, leader of the Roman Catholic Church, to combat health issues by setting a great example.
"We met with a really high priest. There was an opening where he [Pope Francis] talks to people. We went there. We were able to make it inside the Vatican," Genesis said. "We got a letter from the Vatican team and he [Pope Francis] said he supports my activism."
Although Pope Francis has responded to the letter - he didn't address the challenge to become vegan for Lent.
Genesis has been vegan since she was six years old and convinced her family to do the same out of health reasons, but also because they owed it to Mother Earth.
"I just figured out that animals had to be killed to become food. So I asked my mom where we got our meat from and after she told me, I never wanted to eat meat again," Genesis said. "I decided to become a vegetarian and then I was wondering where the milk came from, after my mom told me where we got our milk from, me and my whole family went vegan."
Her little brother has been vegan from birth and doesn't even like the texture of faux meat, since he's not used to it, Genesis mentioned. He also never showed any signs of eczema.
"My whole family had really bad eczema," Genesis said, "after I stopped drinking dairy, my eczema cleared up."
The teen activist has been the youngest person to have given a TEDx talk, and in her point of view, in order to make #AmericaGreatAgain, society needs to make #AmericaHealthyAgain. Since her family is very supportive of her lifestyle and activism, it didn't take long for them to adopt a vegan lifestyle as well.
"It only took them [my family] a couple of days," Genesis said. "My mom knew I'm an animal lover. She grew up on a farm, when I brought it to her attention, saying 'It's like someone came to our house taking and drinking your milk, or taking your babies away,' she cried and decided to also become vegan."