Catch the Christmas spirit
Variety of community events
Lisa Fitch Editor | 12/19/2019, midnight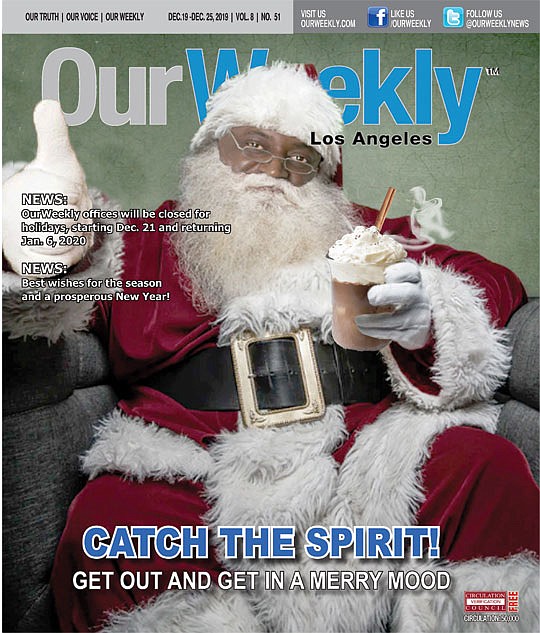 Here it is Dec. 19 and the spirit of the holidays hasn't grabbed you yet? Fortunately, Southern California is blessed with good weather, so one can get out into the city and find activities to set the holiday mood.
Donations of lunchmeat, loaves of bread, box juices, bags of cookies, chips or nuts, plus jars of peanut butter and jelly are needed to prepare lunches for the homeless on Christmas eve. "Hashtag Lunchbag" preparation will beheld from 10 a.m. to 1 p.m. on Dec. 24 at Zion Hill Baptist Church, 7860 10th Ave.
"We take a few hours to make lunches," said Daniel Tabor, whose Long Beach, Inglewood, South Bay Alumni Chapter of Kappa Alpha Psi Fraternity, Inc. helps organize the event. "It's a party, we have the music going. You meet all kinds of different people."
This will be the fourth annual event for the group, which invites everyone, even other fraternities, sororities, families and churches to join in the fun.
"Our goal is to pass the 5,000 lunch mark," Tabor said. "We hit 4200 and 4700 the last two years."
After lunches are prepared via assembly line, love messages complete the bags and volunteers from the event will start distributing lunches that afternoon. Drivers will start near the 110 freeway and Rosecrans Avenue and move north until they reach skid row, passing out lunch bags until they're gone.
"We go on the side streets, freeway overpasses, wherever we see tents," Tabor said. "If you don't feed the homeless on Christmas Eve, when are you going to feed them. You're not going to leave your house on Christmas day to do this."
For more information, or to donate items for the lunch bag production, visit https://www.hashtaglunchbag.org/join-an-event? And search 90043 or hashtag lunch bag Christmas Eve. Monetary donations can be made at http://www.crowdrise.com/krimson-and-kreme.
The KRST Unity Center, 7825 S. Western Ave., is hosting a vision board party at 1 p.m. Dec. 21 and at 3 p.m. on Dec. 22. Artists can use the supplies on hand or bring their own magazines, glue, markers, poster boards and paints. A $5 donation is requested. For more information, call (323) 759-7567. Create a vision board for 2020 and inspire the power to live your dreams.

The LA Philharmonic's Deck the Hall concerts feature performances by an eclectic array of artists who bring the joy of the holiday season to concert-goers during this special time of year.
"Dianne Reeves: Christmas Time is Here" will feature the great singer presenting holiday favorites. The All-star ensemble includes pianist Peter Martin, guitarist Romero Lubambo, bassist Reginald Veal and drummer Terreon Gully at 8 p.m. in the Walt Disney Concert Hall.
Two Holiday Sing-Alongs are set at the Disney Hall on Dec. 21, one at 11:30 a.m. and another at 2:30 p.m. Melissa Peterman will host the event, which will feature the Angeles Chorale, a jazz combo and pipe organ. Children over 2-years-old are admitted to the traditional sing-alongs.
A "White Christmas" sing-along is set for 3 and 8 pm. At the Disney Hall, where the audience can sing along with Bing Crosby, Rosemary Clooney, Danny Kay, Vera-Ellen and the film's remastered soundtrack. The 1954 film will be presented with lyrics on the screen.