A Vegan Christmas
Easily satisfy every eater
Isabell Rivera ow contributor | 12/12/2019, midnight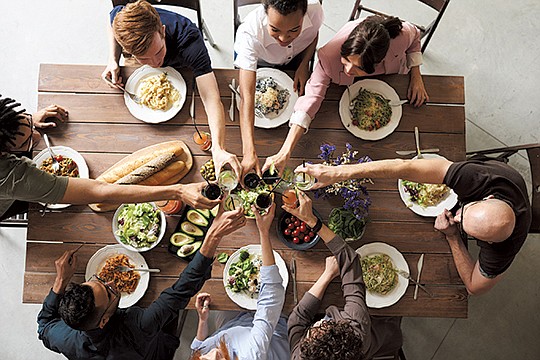 Now that Thanksgiving is over, Christmas brings a new battle of "What to cook for the vegans at the table?"
The season of apple pies and gingerbread cookies is only a few days away, but some already feel like throwing in the towel, panicing about what to serve vegan guests.
Don't panic.
Although 2019 has been a successful year for the vegan consumer and the industry - even non-vegan establishments tried to cater to the plant-eater - it's still the most controversial diet, according to some opponents.
Many people think it's hard to whip up vegan- friendly dishes, when in reality it's a lot easier than taking a chance of having a dried out turkey or burnt ham.
The surprising factor is that many items found at the regular grocery store are accidentally vegan - although maybe not labeled as such since they share a manufacturing facility with non-vegan items. Chances are that carnivores already have them in their fridge or pantry. For instance, frozen pie crusts or crescent rolls of popular brands are vegan, and certain cream of soups that come in a can, and cranberry sauce is certainly vegan.
Knowing this should make shopping for the holiday feast a lot more relaxing, all there is left to do now is to check if the selected items contain the following ingredients: milk (and casein or whey - a protein derived from milk), gelatin or eggs, and for allergy purposes, nuts and soy. But if it doesn't - it's vegan. However, some items may contain honey - which is not considered vegan - although some vegans are more lenient than others. Just keep that in mind, if you bought honey-anything, it might be the start of an argument that could ruin a peaceful gathering.
If you're a carnivore and are hosting a Christmas party for your family this year that involves one or two non-meat eaters, there are many vegan dishes that can be prepared, without any hassle or extra ingredients you need to buy. Most side dishes can be made vegan friendly, by leaving out or substituting certain ingredients.
If you're planning on serving some sort of mashed potatoes, skip the butter, cream and chicken stock, and use olive oil instead. If you're planning on making a cake to easily be dressed up with frosting and peppermints, a boxed cake of a popular brand—which is accidentally vegan - will do the job. All you need is a can of a soft drink as a leavening agent - that easy. When it comes to the frosting, most packaged frostings are already vegan.
Had enough of a green bean casserole for Thanksgiving and now running out of ideas for veggie infused side dishes? How about roasted fall veggies, such as carrots, parsnips, and potatoes with rosemary, garlic, salt and pepper, olive oil and a little toss of maple syrup to let them get crispy in the oven- no butter necessary.
The bottom line is, you don't want to create a whole new menu for just one or two people, and those vegans or vegetarians don't want you to make a big deal about their diet restrictions.