Speedy emergency medical care is difference between life, death
County Fire Department needs new equipment
Lisa Fitch OW Contributor | 8/15/2019, midnight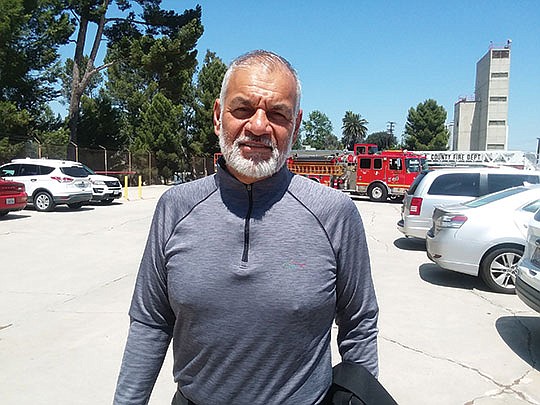 Gil Hurtado served as a South Gate councilman for 12 years, and as a customer service manager for the US Postal Service for more than 33 years. All that time he volunteered with the South Gate Junior Athletic Association, helping to provide recreation programs and tournament opportunities for youth.
One day, in 2015, the kids on the field noticed something strange.
"They said 'Coach Gill, you're looking pale,'" Hurtado recalled. "'What's going on here?'"
Hurtado suffered a massive heart attack that day and the paramedics were called.
"What they did on that field… helped me get through, resuscitate, or whatever it was they did, helped get me to the hospital, so I'm very grateful they saved my life," Hurtado said. "It was a very terrifying time."
The former councilmember always considered himself very health-conscious. He's a vegetarian and has run nine marathons.
"It was a crazy, shocking sort of thing," he recalled during a recent news conference held as part of the LA. County Fire Department's current public awareness campaign and survey site, www.weareLAcountyfire.org.
Today Hurtado's ears perk up each time he hears a fire siren.
"One thing that I've noticed," he said. "Is just how much these folks are needed. I mean you hear the sirens going off every few minutes. So the community benefits from the fact that they're there."
LA County Fire Chief Daryl Osby said that more than 80 percent of the sirens heard are for medical calls, not fires.
Prior to 1970, there were no paramedics on the fire department staff. If a resident had an emergency, they would have to call a private ambulance company or drive the victim to a hospital.
"I feel like I have one of the best jobs in the world," said Osby. "We have some of the best trained firefighters and paramedics in the world. They train hours upon hours a day."
The department's revenue stream -- county property taxes and fees for services which fund the department's staffing and resources -- have not kept up with the needs of the community and the increased volume of 911 calls. Additionally, extreme weather has meant more frequent and more intense fires. Today, the County's 50-year-old paramedic firefighter service responds to up to 2,100 calls in one 24-hour period, according to Supervising Fire Dispatcher Melinda Choi. All this with a limited staff of dispatchers and firefighter/paramedics.
"Our dispatch system was developed years ago," said Dr. Clayton Kazan, the one and only full time medical director of the LA County Fire Department. "We really are straining the limits of human performance."
"Every second counts in an emergency," Fire Captain Eric Suarez said, explaining that the current "jaws of life" that stations are currently using require set-up time and extra manpower to connect hoses and manage the 100-lb unit.
There are newer, battery powered units on the market now.
"Now we could hit the ground running in less than 30 seconds within arrival," Suarez said, noting this equipment and other specialty tool upgrades are needed "So that we can continue to provide the level of care that everybody's used to."
The LA County Board of Supervisors will soon determine if there should be a ballot measure increasing the department's funds.
"The board fully supports public safety," Osby said. "But they also have other challenges."
Dr. Kazan stressed that with every minute of delay, the estimated survival rate decreases from seven to 10 percent for cardiac arrest victims.
"Almost immediately, the fire department was there," Hurtado recalled of his emergency. "I think the reason I survived was because of the treatment I received at that moment before I got to the hospital."
For more information visit www.weareLAcountyfire.org.