PVJOBS celebrates latest graduation of students
Assisting the formerly incarcerated
Lisa Fitch OW Contributor | 8/15/2019, midnight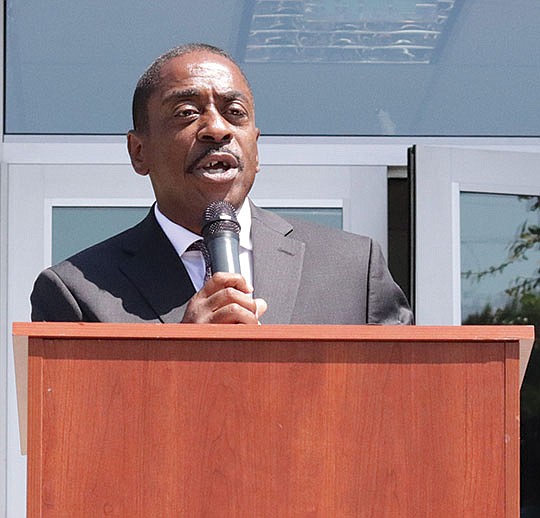 Since his foster sister told him about PVJOBS, Ashley said he was determined to turn his life around. He got up at 5 a.m. each morning to travel from his shelter residence in San Pedro to make it on time to the PVJOBS class in South LA.
"It's been a positive experience," Ashley said of the program. "They've given us a lot of insight on how to get into the unions and they gave us hands-on experience.
"That's what I really needed, the hands on," Ashley said. "Show me once and I've got it."
During the Construction 101 program, Ashley's class built two wooden clothes racks for the organization, which recently received a large donation of dress suits from Men's Wearhouse.
Matthew Elliott, 23, is a PVJOBS Right Turn program participant who also graduated from Construction 101, but skipped the celebration lunch to catch a ride to the hospital. His girlfriend gave birth to their first child on Aug 7th.
Elliott, a graduate from Victor Valley High School in Victorville, got into a fight and was arrested for assault with a deadly weapon. He served two weeks in downtown's twin towers and was given two years probation.
His ultimate goal is to become a firefighter.
"Once I get off probation and get my record expunged," Elliott said.
"PVJOBS was a great experience, good training.
Elliott was part of the team that helped build the suit racks.
"The hardest part was the cutting," he said. "The hands on experience, cause I never worked in the construction field before. Learning the different skills, like cutting with the saw and the different kind of saws.
"It's a good program and they're very helpful," Elliott added.
Before the combined graduation classes posed in their new outfits for their "suited and booted" group picture, Lewis took to the podium and thanked the PVJOBS staff.
"I would be remiss if I didn't thank the people of PVJOBS for having this event," he said. "But more importantly, I want to thank the people who greet us every day when we come through these doors and do everything they can to make sure our re-integration back into society is as easy as possible."