PVJOBS celebrates latest graduation of students
Assisting the formerly incarcerated
Lisa Fitch OW Contributor | 8/15/2019, midnight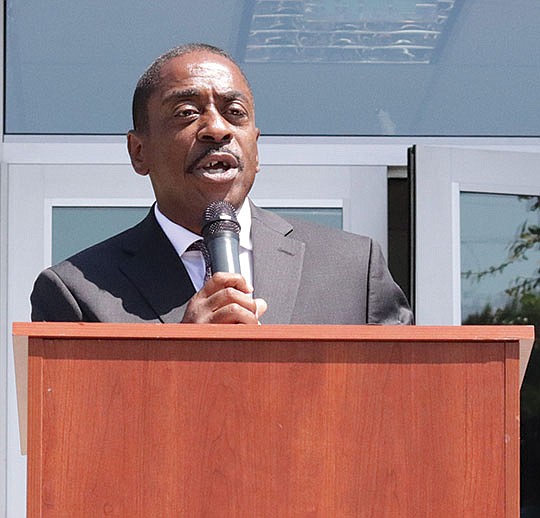 As "Pomp and Circumstance" blared over the loud speakers, Pierre Lewis choked up. At 60 years of age, he had never heard the graduation march played for him before.
But it was for him. For himself and six other Aug. 6 graduates of the PVJOBS Hatch University, a two-week program where re-entry men and women can receive an introduction to post-secondary education; academic guidance; and career opportunities.
"Here I am at 60, when most are ready for retirement, I'm just trying to find my way," Lewis said.
Lewis first went to prison in 1977 for armed robbery. That was followed with separate sentences in 1983, 1989, 1990, 1994 and 2004.
"I spent close to 30 years in prison," Lewis said. "I came home June 11th …and this fall I'll be starting college."
Lewis and his classmates received tours and student ID cards at West Los Angeles College during the Hatch program.
Lewis recently moved to Los Angeles to begin anew, instead of moving back to his old New York haunts and falling back into old habits.
"It's do or die at this point in my life," Lewis said. "I'm not losing my hope."
While staying at a Hollywood area, residential re-entry center, Lewis was referred to PVJOBS, a 21-year-old nonprofit which operates two consecutive U.S. Department of Labor-funded programs: Hatch, for re-entry adults over 25, and the Right Turn program, which addresses the employment barriers of court-involved youth.
Both programs help reentry individuals attain the in-demand skills they need for career success, including intensive case management; academic coaching; occupational training; career pathway planning; and mentoring.
For Lewis, It's been quite an adjustment, living outside of prison.
"It's like Post Traumatic Stress Disorder (PTSD)," Lewis said. "I'm suspicious of people. I had to get used to people saying 'good morning!'"
Lewis compiled his anxious thoughts and feelings into a self-published book of poetry, "Belly of the Beast." He feels that writing is in his blood, as his father is a songwriter, having penned "Heaven Must be Missing an Angel" for the R&B group Tavaris.
After Lewis' prison release, his father treated him to dinner one night, but even that created some anxiety.
"When I tried to use a fork, it was like trying to ride a camel," Lewis said, admitting he looked around the restaurant to see if anyone noticed. "I didn't know how to use it. We use plastic spoons in prison."
Elder Ashley, 29, graduated from PVJOBS that same day, along with 14 others who participated in PVJOBS' Construction 101 class, a three-week, pre-apprenticeship training program where graduates earned construction industry-recognized certifications.
"It's easy to fall back into the negativity," Ashley admitted during the ceremony. "I had my guard up, everybody had their guard up."
Years ago, hanging out with his gang resulted in his serving two separate terms for burglary, one in 2010 and the last in 2013.
Now Ashley is looking forward to working in the My Brother's Keepers Boot Camp in Compton, a program of the Southwest Carpenters Training Fund which starts next month.