Jay Z, NFL commissioner meet to discuss partnership and Colin Kaepernick
National
Carol Ozemhoya | OW Contributor | 8/15/2019, 11:35 a.m.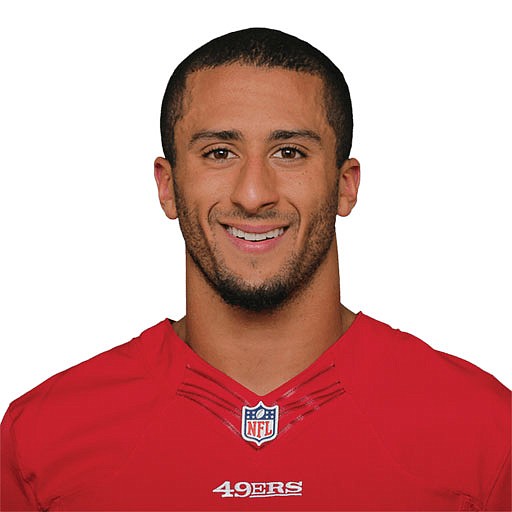 Jay Z and NFL Commissioner Roger Goodell gathered with reporters for a press conference at Roc Nation's New York offices on Wednesday to discuss their new entertainment and social awareness partnership, which was revealed yesterday after news leaked, reports Variety.
While the conference was generally genial, at times the exchanges between the two and reporters became a bit contentious with regard to San Francisco 49ers quarterback Colin Kaepernick, whose controversial symbolic kneeling during the National Anthem to protest racial inequality in the U.S. has essentially seen him drummed out of the league. Jay Z and Goodell said that they both have had conversations with Kaepernick, but declined to reveal any details about those conversations, or what his stance on the partnership may be.
"I would never tell you what me and Kap's private conversation was about," Jay said, "but we spoke, yeah." The reporter followed up, asking whether Kaepernick was supportive. "I would never tell you about that conversation," Jay Z repeated, with the remainder of his response drowned out by laughter from the reporters in the room. Asked whether they plan to involve Kaepernick in the partnership, Jay said, "You'll have to ask him, I'm not his boss. That's for him to say."
Earlier, asked how he could enter into this partnership while Kaepernick remains without a team, Jay said, "I think that we forget that Colin's whole thing was to bring attention to social injustice so in that case this is a success — this is the next thing. There's two parts of protest: the protest, and then there's a company or individual saying 'I hear you, what do we do next?' For me it's about actionable items, what are we gonna do about it? We get stuck on Colin not having a job, you know what I'm saying? And this is more than that. I support any protest that's effective. I'm into action, I'm into real work — I'm not into how it looks from the outside. If protesting on the field is the most effective way, then protest on the field. But if you have a vehicle that can inspire change and speak to the masses at the same time, it's hard to steal the narrative away."
Asked if Kaepernick has been blackballed, Goodell said that "any team" can sign him. When Jay was asked whether he views the partnership as a form of protest and an opportunity to change from within, he said, "Of course, yes." But pressed for details later, he said, "America in general looked at rap as a fad, and it's the number one genre in the world, you just can't hide the statistics now because of streaming. But in 1998 rap was the no. 1 genre going forward to today, so I would love for these platforms to be more inclusive of our music."
Jay became borderline defensive when asked by a reporter, "I'm sorry to put it this way, but if the National Anthem were playing, would you kneel or stand?" Jay asked for the question to be repeated, blinked incredulously for a moment, and then said, "I think we're past kneeling. I think it's time for action."