Toni Morrison brought to life the legacy of Black America
Legendary writer dies at age 88
Lisa Fitch and Isabell Rivera OW Contributors | 8/9/2019, midnight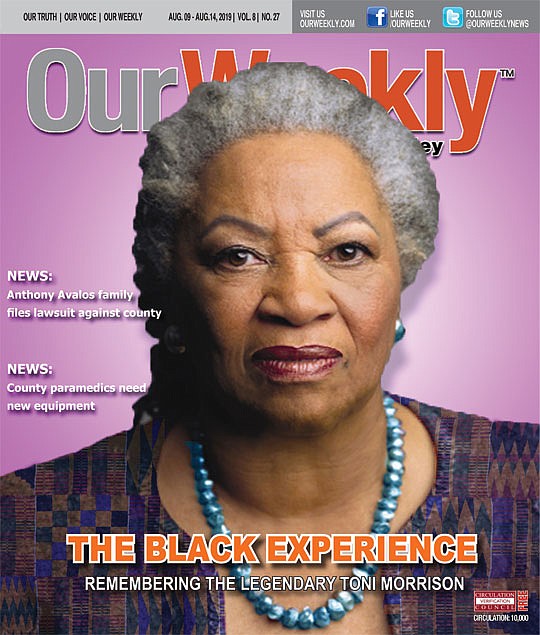 She co-edited the 1997 book "Birth of a Nation'hood: Gaze, Script, and Spectacle in the O.J. Simpson Case."
Another nonfiction effort was the 2004 "Remember: The Journey to School Integration," her first historical work for young people.
While a senior trade book editor at Random House in New York, Morrison took the opportunity to promote black literature, introducing Henry Dumas, Toni Cade Bambara, Angela Davis and Gayl Jones to mainstream audiences.
Literacy criticism
In 1987, Morrison was named the Robert F. Goheen Professor in the Council of Humanities at Princeton University, a post she held until her 2006 retirement. She taught courses at Princeton in the humanities and African American studies. One of her courses led to her book of literary criticism, "Playing in the Dark: Whiteness and the Literary Imagination."
Morrison was awarded the Nobel Prize in literature in 1993, the first Black woman to be so honored. On the Nobel website, the Swedish academy recognized her as an author "who in novels characterized visionary force and poetic import, gives life to an essential aspect of American reality."
In 1996, she was honored with the National Book Foundation's Medal of Distinguished Contribution to American Letters.
Morrison, through her unique creative expression, reached toward her stated objective: "There is no time for despair, no place for self pity, no need for silence, no room for fear," she wrote. "We speak, we write, we do language. That is how civilizations heal."
Morrison's novels
Of Morrison's 11 novels, a few of them stand the test of time for their authentic portrayal of the history and culture of African-Americans. Her novels evoked a past that is scarred by the violence of both slavery and its long aftermath, and redeemed by the power of love and the grace of laughter. Her novels were philosophically speculative yet vividly imagined and written in a prose that was by turns lyrical, elusive, colloquial, and transcendent. The best art, Morrison once asserted in a phrase that could be applied to her own, is "unquestionably political and irrevocably beautiful at the same time."
A storyteller with an abiding moral vision, Morrison confronted contemporary issues of racism, sexism, class exploitation, and imperialism by exploring her characters' emotional and psychological response to these structures of domination.
Here is a brief look at some of Morrison's most popular and thought-provoking books:
"The Bluest Eye" (1970)
Her first novel to garner critical acclaim told the story of a Black girl named Pecola Breedlove who grew up during the Great Depression in Lorain, Ohio. Racism, bullying, and sexual assault were a daily fact. In an interview about the inspiration for the novel, Morrison said that she wanted to remind her readers how hurtful racism is and that Black people with dark features must always compensate for their dark skin. Morrison wanted to tackle on the White beauty standards that were praised during that time, and how racism and being called "ugly" can result in developing an inferiority complex - the feeling of low self-esteem and not being able to measure up to society's standards, as well as the doubt and uncertainty about oneself.