Black students sweep Harvard Diversity Project debate tournament
Win for second consecutive year
Carol Ozemhoya ow contributor | 8/2/2019, midnight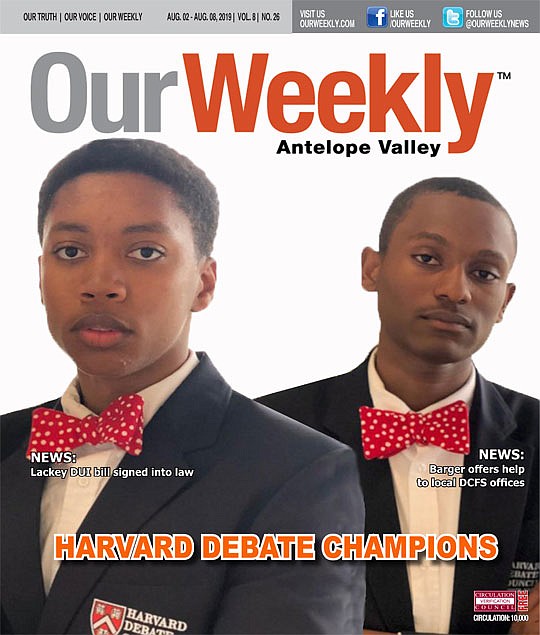 A fond welcome back home
The Black students from Atlanta savored their victory and were welcomed home by a small but loud cheering crowd at Atlanta's Hartsfield Jackson Airport last month. While they're only teenagers, they are well aware of current events in the U.S. and around the world and spoke about the significance of their accomplishment.
"This is the moment that we've worked so hard for," said Roman, 17, a senior at North Atlanta High School. "Our accomplishment is far bigger than us. We are showing the world what Black youth are capable of achieving when given equal access, exposure and opportunities. This win is for our ancestors, our city, and most of all, our culture."
That immense sense of pride began with the program last year, when Jordan Thomas brought top honors home to Atlanta. Thomas, from Atlanta's Grady High School, won the competition. He said that he was "determined to represent my city and my story. I wanted people to see where I came from and how I could keep up with them. Being a young, middle class, Black, public school student from the South created a stigma that automatically set me back in comparison to the competition, most of who were international students or from preparatory schools in the Northeast."
Added the teen, "To bring the championship back to Atlanta was the most satisfying feeling, and to walk onto the campus of one of the most elite universities in the world and meet personal and council goals, brings a unique and new satisfaction that I've never experienced."
Bringing out the best in Black youth
That pride is exactly what Fleming says he and his colleagues at Harvard were looking to accomplish when they started recruiting from local Atlanta high schools. "It sends a message to the world of what African-American youth are capable of, if they are given access and opportunities," Fleming said. "Most of our students have never been exposed to the power of academic debate. Knowing that they will compete against hundreds of scholars who have years of debate experience, combined with the benefit of private and prep schools to their advantage, we seek to level the playing field by introducing our students to higher level academic disciplines that are typically unavailable in traditional school settings."
It's not just about debating, Fleming explained. It's about leadership and celebrating their culture. The program has fast become known as an incubator of academic excellence, as well as a launchpad for tomorrow's young leaders.
Harvard recruits in Atlanta
Why Atlanta? According to research from Bloomberg, although Atlanta appears to be a progressive center for African-Americans politically and as entrepreneurs, it currently ranks as the most unequal city in the U.S. and has one of the highest needs for minority development. So the area was a prime candidate for the Harvard Diversity Program to strategically provide exclusive exposure and educational opportunities to underrepresented youth.
"This will make them more competitive by providing a distinct advantage in the college admissions process, widening their pathway to success and placing them on a trajectory to become social leaders, activists, and entrepreneurs," according to the program's website.