Homelessness in Los Angeles: A racial issue
Report shows most homeless people in L.A. are African-American
Isabell Rivera OW Contributor | 4/25/2019, midnight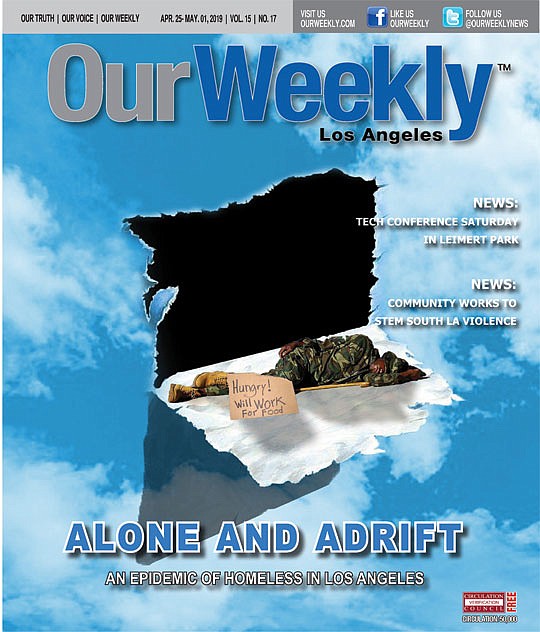 "I was able to secure a place to live - where I reside now, but there's still the issue of not getting a back-pay from the government," E-3 said. "One of the biggest problems of homlessness is the agencies turn their backs on their clients, and they don't work together at all. Everybody goes out and does their own thing."
He said, it's hard to get out of the "homeless mentality," as he calls it. It's all about survival. How to make a dime, where to get the next meal.
"When you're on the streets," he said, "your belongings aren't yours anymore."
He's been attacked a few times, while he was roaming the streets. These incidents were reported to the LAPD, without any success in finding the attackers. Many times he got arrested or harassed by the cops. He said racial profiling is still a thing, and the homeless get treated like the outcast.
"When I was homeless in Hollywood, the LAPD would ride up and tell me I couldn't be there, and put me in handcuffs, and ask me if I was on parole or probation. That was like a regular, recurring incident of 15 years of homelessness," E-3 said. "I've got labeled a chronic complainer. [...] and from that day, they don't take any of your concerns or allegations seriously."
The South L.A. native doesn't represent the stereotypical homeless person. E-3 is well-spoken, clean, and intellectual. He's not a drug addict or an alcoholic. He said the homelessness epidemic will remain, and that city officials don't want to change it. If that was the case, he said, they would have done so by providing mobile showers, soup kitchens, and mobile health care.
An 'ingrained pattern'
"There's not proper adequately classification of the individual's wants and needs. [...] So a lot of people basically have been given up and chosen to live on the streets," E-3 shared. "It's basically an ingrained pattern, it's very, very difficult to erase. When I got my house, I was just basically looking for a corner to crawl up in and go to sleep. The idea of having running water, electricity, a front door and a back door, that was completely foreign to me. I had to adapt to the situation and the circumstances."
He also feels, homeless veterans don't get much help in a city like L.A.

"I talked to some people and they told me about going to the V.A. [Department of Veterans Affairs] to get into the HUD-VASH program," E-3 said. "I was very, very skeptical because the treatment that I received was not very fair compared to another guy that was homeless in Hollywood where the worker was more sympathetic, kind, and helpful to him, and I was just basically given a cold shoulder, but the information I was given, I took and I ran with it.
"I was encouraged by an outreach worker to go there [West L.A. Department of Veterans Affairs] and everything will be taken care of, than I found out it was just a catastrophe. A lot of stuff was out of order and it took an unnecessarily long time to get a housing voucher, and assistance, and aid."