The ultimate mix: Music and politics
The Jazz & Arts Festival at Cal State Dominguez Hills on April 27
Carol Ozemhoya OW Contributor | 4/18/2019, midnight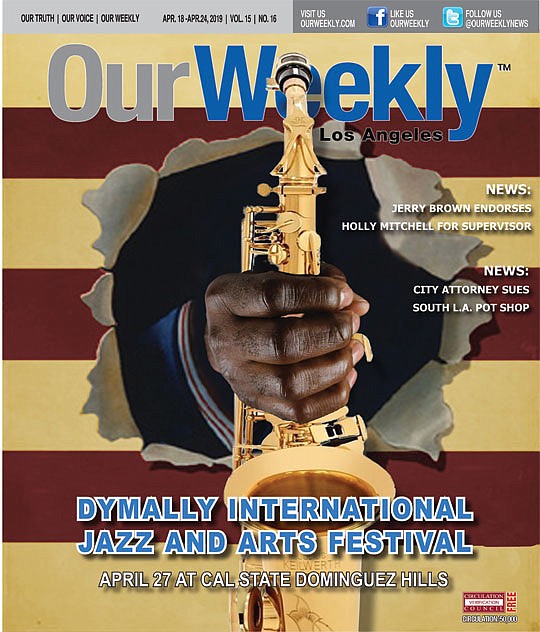 It's been nearly half a century since musical geniuses Marvin Gaye and Stevie Wonder mixed politics with music. Gaye's historic "What's Going On" is still sampled today, with its message resonating across decades of unrest and change for people of color.
And then there was Wonder's 1974 No. 1 – "You Haven't Done Nothin'," with the Jackson 5 singing backgrounds (that's them singing "doo da wop!") by the way. The song was squarely directed at then President Richard Nixon. It was funky. It was fiercely a statement, and two days after its release, Nixon resigned. (That's up to historians to decide if the song, which was Wonder's fourth No. 1 Pop hit (10th No. 1 on the R&B charts), had an impact on Nixon's decision.
There's no doubt, these and other songs had an impact on the minds of music fans around the globe and set them to thinking about civil rights and the condition and position of people of color in the United States.
Remembering Mervyn Dymally
Since those times, a man of color was making history in California. His name: Mervyn M. Dymally, an African-American who paved the way for many of today's powerful Black Californian-based (national) politicians, such as Maxine Waters, Karen Bass, Yvonne Brathwaite Burke and the late Juanita Millender-McDonald. The Jazz & Arts Fest on April 27 at Cal State Dominguez Hills is debuting in honor of Dymally and his legacy, which involved a globalist view of education, diplomacy, and democracy.
The Compton Unified School District and Compton College are participating in the event, which features some of the biggest names in entertainment. D.L. Hughley is hosting. Performers include Kem, Maxi Priest, Gerald Albright and Nestor Torres (the flutist with the amazing comeback story – he was just rising to the top of the jazz world when a freak boating accident caused what was thought to be irreparable harm to his neck and shoulder. He was told he'd never be a world-class flutist again. The critics were proven wrong).
Back to the other amazing story That of Mervyn M. Dymally. He was a history-making federal- and state-elected official from California. A member of the Democratic Party, Dymally was first elected to the California Assembly in November 1962, serving until 1966. He then became the first African-American elected to the California Senate, serving from 1967 until 1975. Dymally again made history by becoming the 41st Lieutenant Governor for California, the first African-American to do so, serving from 1975 until 1979. Then Dymally took his public service to the federal level, becoming the first naturalized African Caribbean U.S. Congressperson in history.
African-Americans and public policy
Dymally served in the U.S. House of Representatives from 1981 until 1993. After a 10-year hiatus from elected office, he returned to serve in the California Assembly — where it all started for him — from 2003 to 2008, capping off nearly a half century of public service. Mervyn Dymally passed away on Oct. 7, 2012.
Demally left behind more than an array of firsts.