Beauty, brains and power
Carol Ozemhoya | OW Contributor | 9/28/2018, midnight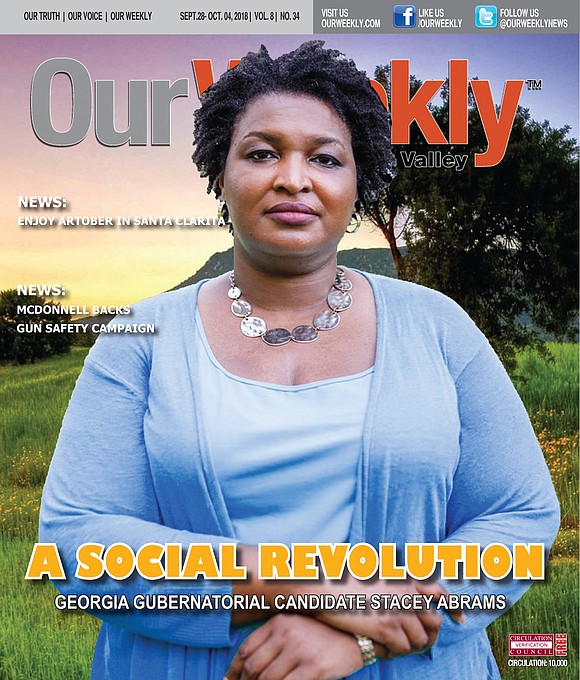 Talking about women of color: meet Gina Ortiz Jones, running for a House seat in Texas. If elected, she will become the first woman to represent the 23rd District, as well as the first openly lesbian woman to take the seat. She is Filipino American (her mother was an immigrant), who is also an Iraq war veteran. 
"Women are angry. They want to be treated with respect and paid equally as well," says Pat Furno, a political activist who actually marched in the '60s. "They've realized the power of politics and its ability to enlist change."
Entertainment
No doubt it's been a banner year for minorities in the entertainment field as well. In fact, studies recently were released that revealed that the Black consumer is not only becoming stronger, it is also becoming the tastemaker by which film and TV, particularly in the booming business of streaming, is taking after. Our Weekly has in the past pointed out several Black women who have made mega deals to provide original programming to the major streaming networks such as Netflix, and that includes Ava DuVernay, Tyra Banks, Shonda Rhimes and of course, Oprah Winfrey.
Niecy Nash, who has been a co-star on a variety of shows for many years, has landed the first late night talk show led by a Black woman. Tiffany Haddish has exploded on the scene as not only a comic and actress, she is also a content creator. 
Just last week, Our Weekly reported on Oscar-award winning actress Halle Berry, now 52, who is venturing into directing with "Bruised," a drama she is also going to star in about an MMA fighter.
How women in hip hop control their own destinies is the subject of the A3C Conference, now in its 13th year. Founded in 2005, the gathering of women in the industry takes place this year in Atlanta and is designed to "educate and empower the artists, entrepreneurs and creative that shape hip hop culture." 
Most of hip hop's top female executives are part of the conference and are joining Atlanta Mayor Keisha Lance Bottoms at the city's Loudermilk Center Oct. 3-7 with Toyota as the main sponsor. Some of those scheduled to participate include Aysa Shein, president of Fusicology; Ethiopa Habtermariam, president of Motown Records; Nicole Bilzerian, head of urban marketing at Interscope; and Whitney-Gayle Benta, head of talent relations at Spotify.
A lot of men are expected to attend too, such as Jermaine Dupri, Steve Stout, and Tuma Basa, director of urban music at YouTube.
Habtermariam is a remarkable story in itself. She is the daughter of immigrants who has an impressive list of signings, including Justin Beiber, J. Cole, Big Sean, Jhene Aiko, Childish Gambino, Miguel and Ciara, just to name a few. This Black beauty has successfully climbed a ladder usually held for men. Habtermariam, who is considered one of the most famous women in music, will be a keynote speaker at the conference.
"This has been a long time coming," Denise says of the movement toward the empowerment of women. "Women have always had the brains and have been the magic behind many powerful men. So many are now taking all of their brilliant ideas and talent and sharing them with the world. It's a beautiful thing."