Beauty, brains and power
Carol Ozemhoya | OW Contributor | 9/28/2018, midnight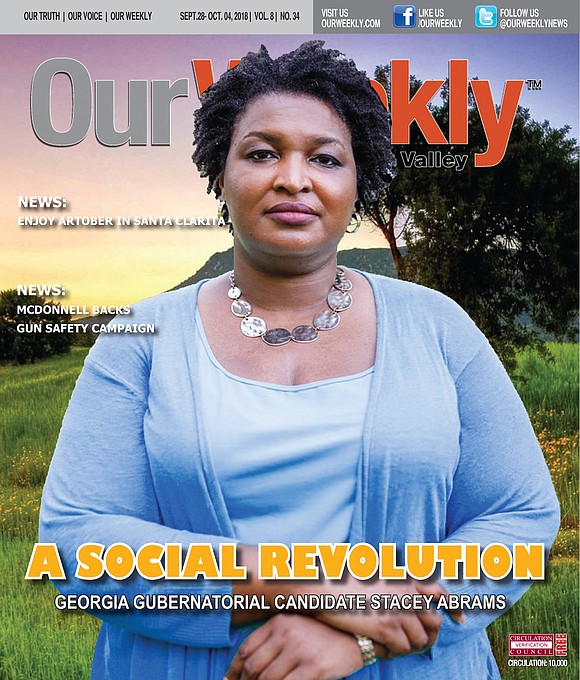 Across the country, meet Ayanna Pressley, an African American who is set to take the Senate seat once held by John F. Kennedy in Massachusetts. Pressley pulled off a surprising victory against 10-year incumbent Michael Capuano. At press time, she stands unopposed in November and would become the first Black woman to represent the state in Congress.
Pressley certainly has the tools to be effective right out of the box and rise to prominence in the Democratic Party. She was a Congressional aide and currently serves on the Boston City Council. Pressley, a Black woman, is a special kind of candidate, one that speaks from being a sexual abuse survivor and being raised by her mother while her dad was incarcerated. One of her campaign slogans hit a chord with Massachusetts voters: "The people closest to the pain should be closest to the power."
Commenting on why being Black is an important factor, she said, "You cannot have a government for and by the people if it is not represented by all of the people."
Indeed, come Nov. 7 (the day after elections across the U.S.), Congress, the House and governor and municipal positions nationwide could have a much different look. Our Weekly has already written on Stacey Abrams, a Black woman many believe is on the path to become Georgia's first Black governor and first female in that office.
Stacey Abrams' historic run
Abrams has been endorsed by former President Barack Obama, Sen. Kamala Harris and numerous other Black leaders, as well as White leaders such as former Vice President Joe Biden, who is actively campaigning for her. Obviously, the Democratic Party feels Abrams has a bright future in its ranks.
Other women of color on the verge of being part of the change include Lauren Underwood in Illinois, Ilhan Omar in Minnesota, Jahana Hayes in Connecticut and Lucy McBain in Georgia, all nominees in their respective Congressional districts.
In New York, Alexandria Oscasio-Cortez could win a position in the House. She is only 28. Issues she has focused on include immigration policies and health care for all.
Another 28-year-old woman making strides on the political front is Krysten Sinema, who is the Democratic nominee for Sen. Jeff Flake's seat Arizona. While not a minority, her election would mean she'd become the first openly bisexual women in the nation's capitol and the state's first female senator.
Rep. Ilhan Omar already knows what it takes to make history. She became the first Somali-American Muslim elected to office in Minnesota. She hopes to elevate that first to becoming the first Somali-American Muslim to be elected to Congress. Reports Vox: "Omar's story is particularly resonant given the Trump administration's crackdown on immigration. Omar fled war-torn Somalia in the early 1990s and lived in a refugee camp in Kenya for four years before moving to the United States."
In her race for Congress, she's up against Minnesota state Sen. Patricia Torres Ray, a fellow immigrant. Omar has already been endorsed by her district's local Democratic Party and is a known entity in national progressive circles, but the outcome of her race is far from certain. If Omar makes it to Washington, there's a chance she could be one of many Muslim women to do so; she's part of a group of five, including Rashida Tlaib of Michigan's 13th District; Fayrouz Saad of Michigan's 11th District; Tahirah Amatul-Wadud of Massachusetts's First District; and U.S. Senate candidate Deedra Abboud, running in Arizona.