Support increases for Jim Clyburn House Speaker bid
Would be first African American
Benjamin F. Chavis, Jr. NNPA President and CEO | 9/27/2018, midnight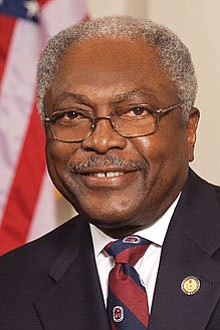 In 2002, Jim was elected Vice Chair of the House Democratic Caucus. He was elected Chair in 2005, Majority Whip in 2006, and Assistant Democratic Leader in 2010. In every capacity he has been inclusive and selfless. In addition, as Whip, he chaired the House Democratic Task Force on Hurricane Katrina, shepherding numerous bills into law, contributing to the rebuilding of New Orleans and the Gulf Coast.
Today, as Assistant Leader, Clyburn has earned the respect of Democrats on Capitol Hill as well as throughout the country. Jim also has helped to raise significant amounts of money for numerous Democratic candidates.
Every August Jim and his wife, Emily – whom he met in jail during one of his SNCC incarcerations – host a Health Fair, Food Bank, Back-to-School bash and Scholarship Banquet for families and communities along the I-95 corridor. This year they awarded $250,000 in cash, laptops and software packages to 127 needy, college-bound students, resulting in a total of $4.9 million in student aid their Foundation has awarded to students over more than 30 years. This effort by the Clyburns precedes Jim's outstanding congressional service.
In conclusion, in America's 233 years as a republic, we have never had an African American Speaker of the House. The time has now come for serious consideration. The midterm elections are only a few weeks away. We will be voting in record numbers and after the November 6, 2018 elections results are reported, there will be new opportunities and responsibilities to reorganize the newly elected U.S. Congress.
African Americans continue to be a major determinative component of the current resurgence of the Democratic Party and are key to winning and maintaining a new majority in the U.S. Congress. Simply put, we are very tired of hearing, "Wait your turn." It is our turn. We demand respect and accountability for our longstanding and solid support of the Democratic Party. Elect Jim Clyburn Speaker of the House.
Dr. Benjamin F. Chavis, Jr. is president and CEO of the National Newspaper Publishers Association (NNPA). He can be reached at drb.chavis@nnpa.org.