Naomi Osaka is shining example of Black girl magic
Rising star pulls off stunning upset at U.S. Open
Cory Alexander Haywood OW Contributor | 9/20/2018, midnight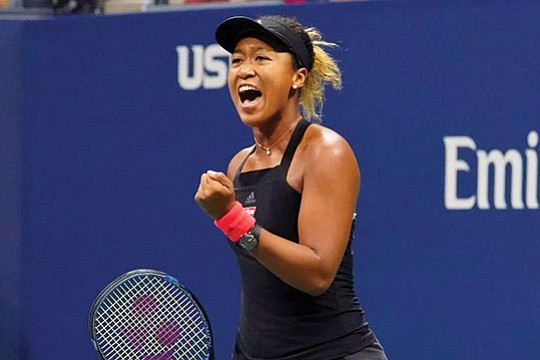 Rising professional tennis phenom Naomi Osaka pulled of a stunning U.S. Open finals victory against one of greatest athletes to ever pick up a racket - Serena Williams.
Osaka played so well that Williams could barely keep up, and pressure of losing in front of hundreds of people in attendance, and millions watching internationally, caused Williams to have an epic breakdown that has since fueled a tabloid firestorm.
Rather than cheer Osaka, the crowd, the commentators and US Open officials all expressed shock and grief that Serena Williams lost.
Osaka spent what should have been her victory lap in tears. It had been her childhood dream to make it to the US Open and possibly play against Williams, her idol, in the final.
It's hard to recall a more unsportsmanlike event.
Here was a young girl who pulled off one of the greatest upsets ever, who fought for every point she earned, ashamed.
At the awards ceremony, Osaka covered her face with her black visor and cried. The crowd booed her. Katrina Adams, chairman and president of the USTA, opened the awards ceremony by denigrating the winner and lionizing Williams — whose ego was noticeably pierced that day. "Perhaps it's not the finish we were looking for today," Adams said, "but Serena, you are a champion of all champions." Addressing the crowd, Adams added, "This mama is a role model and respected by all."
In the days following her loss to Osaka, Williams' tirade captured the imagination of critics and a particular cartoonist who depicted her in a less than flattering fashion. 
The hoopla surrounding Williams inevitably overshadowed Osaka's dominant performance at the Open, and for several days after her win, the media treated her like an afterthought.  
With Williams being the bigger name, and only one tournament victory away from tying the all time record in women's tennis - she was given a disproportionate amount of attention for losing, while Osaka, faded in the background.
But as the dust settles from Serena's histrionics, Osaka is finally getting her moment in the sun - which stems from many years of practice, sacrifice and dedication.
Osaka first came to prominence at the age of 16 when she defeated former US Open champion Samantha Stosur at the 2014 Bank of the West Classic, which was her first time in the main draw of a WTA tournament. She reached her first WTA final two years later at the 2016 Toray Pan Pacific Open, which took her into the top 50 in the world rankings. This year was her breakthrough. In March she won the Indian Wells tournament, beating former world No. 1 Maria Sharapova in the first round. She is the first Japanese player to win a Grand Slam singles tournament in defeating Williams at the U.S. Open. Osaka has reached a career-high ranking of world No. 7 on Sept. 10.
Naomi Osaka was born in Ch??-ku, Osaka to a Haitian father, Leonard "San" François, and a Japanese mother, Tamaki Osaka.